VAUXHALL'S BIG CAPITAL INCREASE.
14th February 1936
Page 27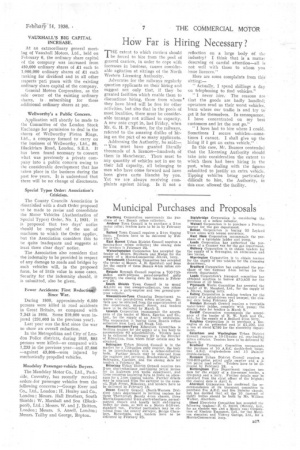 Page 27, 14th February 1936 —
VAUXHALL'S BIG CAPITAL INCREASE.
Close
At an extraordinary general meeting of Vauxhall Motors. Ltd., held on February 6, the ordinary share capital of the company was increased from 450,000 ordinary shares of £1 each to 1,000,000 ordinary shares of £1 each ranking for dividend and in all other respects •pan i passu with the existing ordinary share capital of the company.
General Motors Corporation, as the sole owner of the existing ordinary shares. is subscribing for these additional ordinary shares at par.
Wellworthy's a Public Concern.
Application will shortly be made to the Committee of the London Stock Exchange for permission to deal in the shares of Welbs,orthy Piston Rings, Ltd., a company formed to carry on the business of Wellworthy, Ltd., 89, Blackfriars Road, London, S.E.1. It has been found necessary to convert what was previously a private company into a public concern owing to the considerable development that has taken place in the business during the past fewyears. It is understood that there will be no change of directorate.
Special Types Order: Association's Criticism.
The County Councils Association is dissatisfied with a draft Order proposed to be made to revise and consolidate the Motor Vehicles (Authorization of Special Types) Order, No. 1, 1931. It is proposed that two days' notice should be required of the use of machines to which the Order applies, hut the Association considers this to be quite inadequate and suggests at least three clear days' notice.
The Association also considers that the indemnity to be provided in respect of any damage to roads and bridges by such vehicles will, in the proposed form, be of little value in some cases. Security for the indemnity should, it is submitted, also be given.
Fewer Accidents: First Reductila Since War.
During 1935, approximately 6,550 persons were killed in road accidents in Great Britain, as compared with 7,343 in 1934. Some 219,000 were injured (231,603 in the previous year).
Last year was the first since the war to show an overall reduction.
In the Metropolitan and City of London Police districts, during 1935, 883 persons were killed-s-as compared with 1,233 in-the previous year—and 37,666 —against 43,806—were injured by mechanically propelled vehicles.
Mantislay Passenger-vehicle Buyers. The Maudsiay Motor Co., Ltd., Parkside, Coventry, has recently received others-for passenger vehicles from the following concerns :—George Ewer and Co., Ltd., London; H. Healey and Co., London; Messrs. Hall Brothers, South Shields; W. Marshall and Son (Blackpool), Ltd. ; Messrs. W. and J. Britten, London; Messrs. S. Anse11, London; Messrs. Tailby and George, Reptou.