How Far is Hiring Necessary?
14th February 1936
Page 27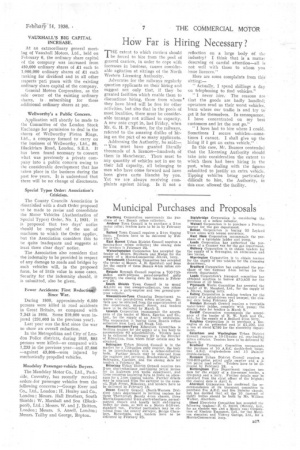 Page 27, 14th February 1936 —
How Far is Hiring Necessary?
Close
THE extent to which carriers should be forced to hire from the pool of general carriers, in order to cope with increases in business, causes Oonsiderable agitation at sittings of the North Western Licensing Authority.
Advocates for the railways regularly question applicants on their hiring and suggest not only that, if they be granted facilities which enable them to discontinue hiring, those from whom they have hired will be free for other activities, but also that in the pools of most localities, there must be considerable tonnage not utilized to capacity. A new note crept in, last Friday, when Mr. G. H. P. Beames, for the railways, referred to the amazing dislike of hiring on the part of so many applicants.
Addressing the Authority, he said: " You must have granted literally thousands of A licences—hundreds, of them in Manchester. Thera must be any quantity of vehicles not in use to their full capacity, all belonging to men who have come forward and have been given carte blanche by you. Yet we are always receiving complaints against hiring. Is it not a
reflection on a large body Of the industry? I think that is a matte: deserving of careful attention—all is not well with those to whom you issue licences."
Here are some complaints from this' sitting:—
" Actually, I spend shillings a day on telephoning to fmd vehicles."
" I never hire.The reasons are
` that the goods are badly handled; operators send us their worst vehicles, learn where our traffic is and try to get it for themselves. In consequence, I have concentrated on my best customers and let the rest go."
" I have had to hire where I could. Sometimes I secure vehicles—sometimes I cannot. I shall give up the hiring if I get an extra vehicle,"
In this case, Mr. Beames contended that the Licensing Authority should take into consideration the extent to which there had been hiring in the past, when dealing with the figures submitted to justify an extra vehicle.
• Tipping vehicles being particularly difficult to hire, the Authority, in this case. allowed the facility.,