YORKSHIRE INQUIRY : FLEET TO BE REDUCED?
14th February 1936
Page 26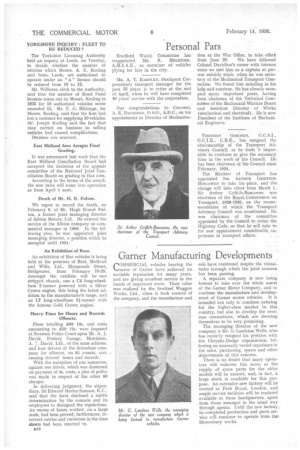 Page 26, 14th February 1936 —
YORKSHIRE INQUIRY : FLEET TO BE REDUCED?
Close
The Yorkshire Licensing Authority held an inquiry at Leeds, on Tuesday, to decide whether the number of vehicles which Messrs. A. E. Keeling and Sons, Leeds, are authorized to operate under an " A " licence should be reduced from 18 to 12.
Mr. Williams, clerk to the Authority, said that the number of Road Fund licences taken out by Messrs. Keeling in 1935 for 18 authorized vehicles never exceeded 1L Mr. F. G. Bibbings, for Messrs. Keeling, said that the firm had lost a contract for supplying 10 vehicles. Mr, Joseph Keeling said the fact that they carried on business in selling vehicles had caused complications.
Decision was reserved.
East Midland Area Accepts Final Grading.
It was announced last week that the East Midland Conciliation Board, had accepted the decisions of the appeals committee of the National Joint Conciliation Board on grading in that area.
According to the terms of the award, the new rates Will Come into operation as from April 1 next.
Death of Mr. H. E. Fulton.
We regret to record the death, on February 9, of Mr. Hugh Ernest Fulton, a former joint managing director of Albion Motors, Ltd. He entered the service of the Albion company as commercial manager in 1946. In the following year, he was appointed joint managing director, a position which he occupied until 1931.
An Exhibition of Reos.
An exhibition of Reo vehicles is being held at the premises of Real, Medland and Wills, Ltd., Monmouth Street, Bridgwater, from February 18-28. Amongst the exhibits will be' two stripped chassis, one a C4 long-wheelbase 2-tonner powered with a Silver Crown engine, this being the latest ad-. dition to the manufacturer's range, and an L7 long-wheelbase 3i-tonner with the famous Gold Crown engine.
Heavy Fines for Hours and Records Offences.
Fines totalling £69 10s. and costs amounting to £59 12s. were imposed at Swansea Police Court upon Mr. A. J. David, Pottery Garage, Morriston, A. David, Ltd., of the same address, and four drivers of the defendant company for offences, on 81 counts, concerning drivers' hours and records.
With the exception of one summons, against one driver, which was dismissed on payment of 4s. costs, a plea of guilty was made in respect of the other 80 charges.
In delivering judgment, the stipendiary, Sir Edward Marlay Samson, KC., said that the facts disclosed a subtle determination by the concern and its employees to disregard the regulations. An excess of hours worked, on a large scale, had been proved; furthermore, incorrect entries and omissions in the time sheets had been resorted to. '
B16