RAILWAYS WELCOME ROAD COMPETITION!
14th February 1936
Page 25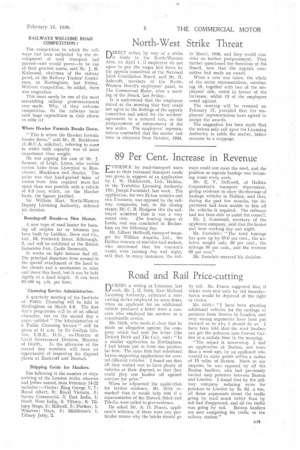 Page 25, 14th February 1936 —
RAILWAYS WELCOME ROAD COMPETITION!
Close
Tho competition to, which the railways had been subjected by -the development of road transport had proved—and would prove—to be one of their greatest assets, said Mr. J. M. Kirkwood, chairman of the railway panel, at the Railway Traders' Conference, at Nottingham, last Friday. Without competition, he added, there' was stagnation.
This•must•surely be one of the most astonishing railway pronouncements ever made. Why, if they welcome competition, do the railways incur such huge expenditure in their efforts to stifle it?
Where Hawker Formula Breaks Down.
"This is where the Hawker formula breaks down," said Mr. H. Bathhouse (C.M.U.A. solicitor), referring to cases in which bulk capacity was of more importance than .weight.
He was arguing the case of Mr. J. Sumner, of Leigh, Lines, who carries cotton bales from Liverpool to Manchester, Blackburn and district. The point was that hand-packed bales of cotton from Asia required more fiat space than was possible with a vehicle of 3.3 tons,, which, on the Hawker basis, the figures justified.
Sir William Hart, North-Western Deputy Licensing Authority, deferred his decision.
Burning-off Roads—a New Heater.
A new type of road heater for burning off surplus tar or bitumen has been built by Laidlaw, Drew and Co., Ltd., 52, Frederick Street, Edinburgh, 2, and will be exhibited at the British Industries Fair, Castle Bromwich.
It works on light furnace fuel oil. The principal departure from normal is the special attachment of the hood to the chassis and a mechanism to raise and lower this hood, but it can be held rigidly at a fixed height. It can treat 86-100 sq. yds. per hour.
Cleansing Service Administration.
A quarterly meeting of the Institute of Public Cleansing will be held in Nottingham on March 5-6. The first day's programme will be of an official character, but on the second day a paper entitled " The Administration of a Public Cleansing Service " will be given at 11 a.m. by Sir Gwilym Gibhon, C.B.E" D.Sc., ex-Director of Local Government Division, Ministry of Health. In the afternoon of the second day members will have an opportunity of inspecting the disposal plants at Eastcroft and Basford.
Shipping Guide for Hauliers.
The following is the number of ships arriving at the London docks, wharves and jetties named, from February 14-22 inclusive ;—Docks: King George V, 7; Royal Albert, 6; Royal Victoria, 3; Surrey Commercial, 3; East India, 1; South West India, 4; Tilbury, 6; Tilbury Stage, 2; Millwall, 8 ; Purileet, I. Wharves: Hays, 5; Middleton's 3. Tilbury Jetty, 2,