89 Per Cent. Increase in Revenue
14th February 1936
Page 25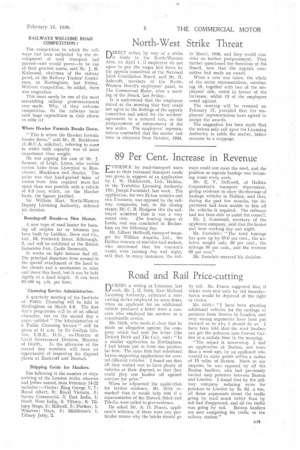 Page 25, 14th February 1936 —
89 Per Cent. Increase in Revenue
Close
EVIDENCE by road-transport users 1.....aas to their increased transport needs was given, in support of an application by I. W. Holdsworth, Ltd., Halifax, to the Yorkshire Licensing Authority (Mr. Joseph FarndaIe), last week. The application, for two 2i-ton vehicles and two .7-tonners, was opposed by the railway companies, but, in the closing stages, Mr. C. R. Hodgson (for the railways) admitted that it was a very sound case. 2'he hearing began at Leeds, and was concluded at Rotherham on the following day.
Mr. Gilbert Helliwell, transport manager for William Asquith, Ltd., the Halifax concern of machine-tool makers, who mentioned that his concern's works were running day and. night, said that, in many instances, the rail ways could not meet the need, and the position as regards haulage was becoming worse every week.
Mr. E. V. Ilelliwell, of Halifax Corporation's transport department, giving evidence to show the shortage of haulage vehicles in Halifax, said that, during the past few months, the department had been unable to hire all the vehicles it required. The railways had not been able to assist the council.
Mr. J. Gomersall, secretary of the applicant company, said that the lorries had been working day and night.
Mr. Farndale "The total tonnage has gone up by 58.6 per cent., the unladen weight only 80 per cent., the mileage 00 per cent., and the revenue 89 per cent.'
Mr. Farndale reserved his decision.