Railway Demands Proved Illegal
14th February 1936
Page 24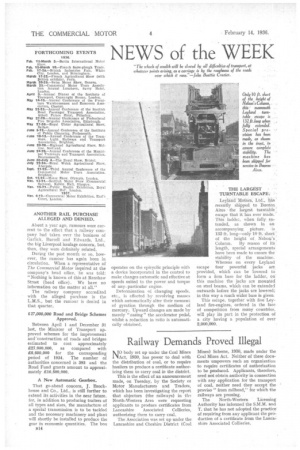 Page 24, 14th February 1936 —
Railway Demands Proved Illegal
Close
NO body set up under the Coal Mines Act, 1930, has power to deal with the distribution of coal, or to require hauliers to produce a certificate authorizing them to carry coal in the district, This is the effect of an announcement made, on Tuesday, by the Society ot Motor Manufacturers and Traders, which has been investigating the report that objectors (the railways) in ay?. North-Western Area were requesting applicants to produce certificates from Lancashire Associated Collieries, authorizing them to carry coal.
The Association was set up under the Lancashire and Cheshire District (Coal
Mines) Scheme, 1930, made under the Coal Mines Act. Neither of these documents empowers such an organization to require certificates of authorization to he produced. Applicants, therefore, need not obtain authority in connection with any application for the transport of coal, neither need they accept the proviso "from railhead," for which the railways are pressing.
The North-Western Licensing Authority has informed the S.M.M. and T. that he has not adopted the practice of requiring from any applicant the production of a certificate from the Lanca= shire Associated Collieries.