567. More Parked Cars in London
14th December 1956
Page 55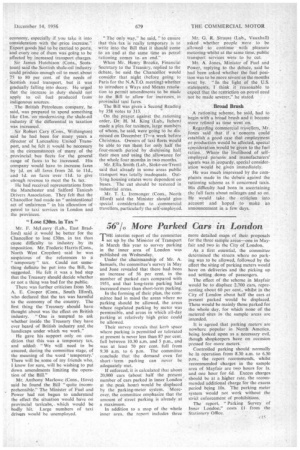 Page 55, 14th December 1956 —
567. More Parked Cars in London
Close
THE interim report of the committee
set up by the Minister of Transport in March this year to survey parking in the inner area of London was published on Wednesday.
Under the chairmanship of Mr. A. Samuels, the committee's survey in May and June revealed that there had been an increase of 56 per cent. in the number of parked ears compared with 1951, and that long-term parking had increased more than short-term parking.
In the forming of their plan, the committee had in mind the areas where no parking should be allowed, the areas where regulated parking by meter was permissible, and areas in which all-day parking at relatively high price could be allowed.
Their survey reveals that kerb space where parking is permitted or tolerated at present is never less than 87 per cent. full between 10.30 a.m. and 5 p.m., and was at least 70 per cent. full from 9.30 a.m. to 6 p.m. The committee conclude that the demand even for short-term park ing can never be adequately met.
If enforced, it is calculated that about 20,000 cars (about half the present number of cars parked in inner London at the peak hour) would be displaced by the parking-meter system. Moreover, the committee emphasize that the amount of street parking is already at a maximum.
In addition to a map of the whole inner area, the report includes three
more detailed maps of their proposals For the three sample areas—one in Mayfair and two in the City of London.
As a first essential, the committee determined the streets where no parking was to be allowed, followed by the effect the siting of parking meters would have on deliveries and the picking up and setting down of passengers.
The effect of the scheme in Mayfair would be to displace 2,700 cars, representing about 60 per cent., whilst in the City of London about half the cars at present parked would be displaced, These would be mainly those parked for the whole day, for which none of the metered sites in the sample areas are intended.
It is agreed that parking meters are nowhere popular in North America, being looked upon as a necessary evil, though shopkeepers have on occasion pressed for more meters.
Controlled parking should normally be in operation from 8.30 a.m. to 6.30 p.m., the report recommends, whilst recommended charges in the sample area of Mayfair are two hours for Is. and one hour for 6d. Excess charges should be at a higher rate, the recommended additional charge for the excess period being 10s. The parking meter system would not work without the strict enforcement of prohibitions.
The report, "Parking Survey of Inner London," costs if from the Stationery Office. .