Shortage of Removal Services Claimed
14th December 1956
Page 46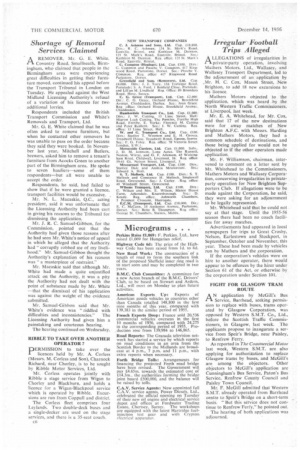 Page 46, 14th December 1956 —
Shortage of Removal Services Claimed
Close
A REMOVER, Mr. G. E. White. I-1 Coventry Road. Smallheath, Birmingham, who claimed that people in the Birmingham area were experiencing great difficulties in getting their furniture moved, continued his appeal before the Transport Tribunal in London on Tuesday. He appealed against the West Midland Licensing Authority's refusal of a variation of his licence for two additional lorries.
Respondents included the British Transport Commission and White's Removals and Transport, Ltd.
Mr. G. E. While claimed that he was often asked to remove furniture, but when he contacted other removers he was unable to pass on the order because they said they were booked. In November last year, Mitchell and Butlers, brewers, asked him to remove a tenant's furniture from Acocks Green to another part of the Birmingham area. He spoke to seven hauliers—some of them respondents—but all were unable to accept the order.
Respondents, he said, had failed to show that if he were granted a licence, transport facilities would be excessive. .
Mr, N. L. Macaskie, Q.C., acting president, said it was unfortunate that the Licensing Authority had been curt in giving his reasons to the Tribunal for dismissing the application.
Mr. J. R. C. Samuel-Gibbon, for the Commission, pointed out that the Authority had given those reasons after he had seen Mr. White's notice of appeal in which he alleged that the Authority had " corruptly robbed me of my livelihood." Mr. Samuel-Gibbon thought the Authority's explanation of his reasons was " a masterpiece of restraint."
Mr. Macaskie said that although Mr. White had made a quite unjustified attack on the Authority, it was a pity the Authority had not dealt with the point of substance made by Mr. White —that the dismissal of his application was against the weight of the evidence submitted.
Mr. Samuel-Gibbon said that Mr. White's evidence was "riddled with difficulties and inconsistencies." The Licensing Authority had given him a painstaking and courteous hearing. The hearing continued on Wednesday.
RUBBLE TO TAKE OVER ANOTHER OPERATOR?
PERM1SSION to take over the licences held by Mr. A. Carless (Messrs. M. Corless and Son), Charnock Richard, near Chorley, is to be sought by Ribble Motor Services, Ltd.
Mr. CorIess operates jointly with Ribble a stage service from Wigan to Charley and Blackburn, and holds a licence for a Wigan-Blackpool service which is operated by Ribble. Excursions are run from Coppull and district.
The Corless fleet comprises four Leylands. Two double-deck buses and a single-decker are used on the stage services, and there is a 35-seat coach.