Spooning a bargain in secondhand coaches
14th August 1982
Page 35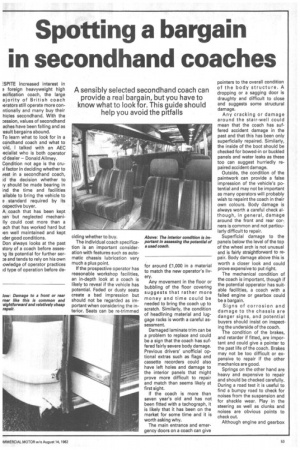 Page 36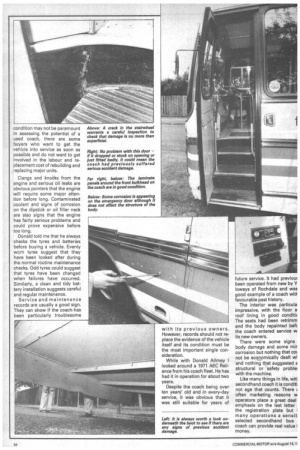 Page 35, 14th August 1982 —
Spooning a bargain in secondhand coaches
Close
A sensibly selected secondhand coach can provide a real bargain, but you have to know what to look for. This guide should help you avoid the pitfalls
:SPITE increased interest in Es foreign heavyweight high ecification coach, the large ajority of British coach lerators still operate more conntionally and many buy their hides secondhand. With the Dession, values of secondhand aches-have been falling and as esult bargains abound, To learn what to look for in a condhand coach and what to oid, I talked with an AEC ecialist who is both operator Id dealer — Donald Allmey.
Condition not age is the cruil factor in deciding whether to lest in a secondhand coach, id the decision whether to ly should be made bearing in ind the time and facilities ailable to bring the vehicle to standard required by its ospective buyer.
A coach that has been kept an but neglected mechaniIly could cost more than a lach that has worked hard but en well maintained and kept ider good conditions.
Don always looks at the past story of a coach before asses its potential for further ser;:e and tends to rely on his own lowledge of operator practices id type of operation before de ciding whether to buy.
The individual coach specification is an important consideration with features such as automatic chassis lubrication very much a plus point.
If the prospective operator has reasonable workshop facilities, an in-depth look at a coach is likely to reveal if the vehicle has potential. Faded or dusty seats create a bad impression but should not be regarded as important when considering the interior. Seats can be re-trimmed for around £1,000 in a material to match the new operator's livery.
Any movement in the floor or bubbling of the floor covering suggests that rather more money and time could be needed to bring the coach up to scratch. Similarly, the condition of headlining material and luggage racks is worth a careful assessment.
Damaged laminate trim can be a problem to replace and could be a sign that the coach has suffered fairly severe body damage. Previous drivers' unofficial optional extras such as flags and cassette recorders could also have left holes and damage to the interior panels that might prove more difficult to repair and match than seems likely at first sight.
If the coach is more than seven year's old and has not been fitted with a tachograph, it is likely that it has been on the market for some time and it is worth asking why.
The main entrance and emergency doors on a coach can give pointers to the overall condition of the body structure. A dropping or a sagging door is draughty and difficult to close and suggests some structural damage.
Any cracking or damage around the stair-well could mean that the coach has suffered accident damage in the past and that this has been only superficially repaired. Similarly, the inside of the boot should be checked for bowed-in or buckled panels and water leaks as these too can suggest hurriedly repaired accident damage.
Outside, the condition of the paintwork can provide a false impression of the vehicle's potential and may not be important as many operators will probably wish to repaint the coach in their own colours. Body damage is always worth a careful check although, in general, damage around the front and rear corners is common and not particularly difficult to repair.
Superficial damage to the panels below the level of the top of the wheel arch is not unusual and is fairly straightforward to repair. Body damage above this is worth a closer look and could prove expensive to put right.
The mechanical condition of the coach is important, though if the potential opperator has suitable facilities, a coach with a failed engine or gearbox could be a bargain.
Signs of corrosion and damage to the chassis are danger signs, and potential buyers should insist on inspecting the underside of the coach.
The condition of the brakes, and retarder if fitted, are important and could give a pointer to the past life of the coach. Brakes may not be too difficult or expensive to repair if the other mechanics are good.
Springs on the other hand are heavy and expensive to repair and should be checked carefully. During a road test it is useful to find a bumpy road to check for noises from the suspension and for shackle wear. Play in the steering as well as clunks and noises are obvious points to check out.
Although engine and gearbox condition may not be paramount in assessing the potential of a used coach, there are some buyers who want to get the vehicle into service as soon as possible and do not want to get involved in the labour and replacement cost of rebuilding and replacing major units.
Clangs and knoeks from the engine and serious oil leaks are obvious pointers that the engine will require some major attention before long. Contaminated coolant and signs of corrosion on the dipstick or oil filler neck are also signs that the engine has fairly serious problems and could prove expensive before too long.
Donald told me that he always checks the tyres and batteries before buying a vehicle. Evenly worn tyres suggest that they have been looked after during the normal routine maintenance checks. Odd tyres could suggest that tyres have been changed when failures have occurred. Similarly, a clean and tidy battery installation suggests careful and regular maintenance.
Service and maintenance records are usually a good sign. They can show if the coach-has been particularly troublesome with its previous owners. However, records should not replace the evidence of the vehicle itself and its condition must be the most important single consideration.
While with Donald Allmey I looked around a 1971 AEC Reliance from his coach fleet. He has had it in operation for about two years.
Despite the coach being over ten years old and in every-day service, it was obvious that it was still suitable for years of future service. It had previoul been operated from new by Y loways of Rochdale and was good example of a coach witt favourable past history.
The interior was particula impressive, with the fioor a roof lining in good conditic The seats had been retrimm and the body repainted befc the coach entered service w its new owners.
There were some signs body damage and some mir corrosion but nothing that cca not be economically dealt wi • and nothing that suggested a structural or safety problei with the machine.
Like many things in life, witl secondhand coach it is conditi not age that counts. There i often marketing reasons w operators place a great deal emphasis on the last letter the registration plate but many operations a sensiL selected secondhand bus coach can provide real value I money.