No Witnesses, So No B Licence
13th September 1957
Page 33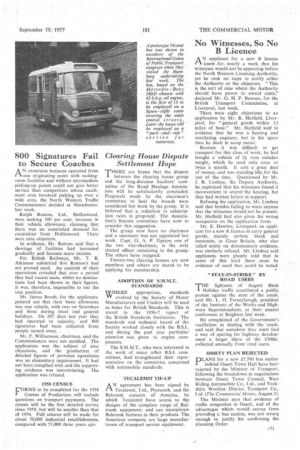 Page 33, 13th September 1957 —
No Witnesses, So No B Licence
Close
A N applicant for a new B licence Pt knew, .for.. nearly a week that his witnesses would not be appearing before the North Western Licensing Authority, yet he took no steps to notify either the Authority or the objectors. "This is the sort of case where the Authority should have power to award costs," declared Mr. G. H. P. Beames, for the British Transport Commission, at Liverpool, last week.
There were eight objections to an application by Mr. R. Hatfield, Liverpool, for " general goods within 12 Of base." Mr. Hatfield said in evidence that he was a heating and ventilating engineer, but in his spare time he dealt in scrap metal.
Because it was difficult to get transport for this class of work, he had bought a vehicle of 2+ tons unladen weight, which he used only once or twice a month. It cost a great deal of money, and was standing idle for the rest of the time. Questioned by Mr. J. R. Lindsay, the Deputy Authority, he. explained that his witnesses found it inconvenient to attend the hearing, but they had written letters in support.
Refusing the application, Mr. Lindsay said that besides failing to warn anyone that the witnesses would not be present, Mr. Hatfield had also given his wrong occupation on the application form.
Mr. E. Dawber, Liverpool, an applicant for a new A licence to carry general goods, mainly carbon black and bentonith, in Great Britain, who also relied solely on documentary evidence. was similarly refused. Mr. Lindsay said applicants were plainly told that in cases of this kind there must be evidence of need that could be tested.
"STAY-IN-STRIKE" BY ROAD USERS
THE lightness of August Bank
Holiday traffic constituted a public protest against the state of the roads, said Mr. L. 0. Ferneyhough, president of the Institute of the Works and Highways Superintendents, at their annual conference at Brighton last week.
He complained of the Government's vacillation in dealing with the roads, and said that somehow they must find a way of sparing for highway development a larger share of the £500rn. collected annually from road users.
OSSETT PLAN REJECTED
PLANS for a new £5,500 bus station behind Ossett Town Hall have beer rejected bythe Minister of Transport, following the breakdown in negotiations between Ossett Town Council, West Riding Automobile Co., Ltd., and Yorkshire Woollen District. Transport Co., Ltd. (The Commercial Motor, August 2).
The Minister -says that evidence of traffic congestion in Ossett, and of the advantages which would accrue from providing a bus station, was not strong enough to justify his confirming the planning Order.