improvements in
13th October 1931
Page 68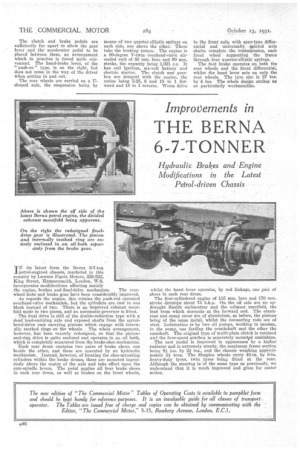 Page 68, 13th October 1931 —
improvements in
Close
THE BERNA 6-7-TONNER
Hydraulic Brakes and Engine Modifications in the Latest Petrol-driven Chassis IN its latest form the Berne, 6-7-ton petrol-eirgined chassis, marketed in this country by Lawson Pigott Motors, 320-322, King Street, Hammersmith, London, W.6, inconporates modifications affecting mainly the engine, brakes and final-drive mechanism. The rearwheel hubs and brake gear have been considerably improved.
As regards the engine, this retains the push-rod operated overhead-valve mechanism, but the cylinders are cast in one block instead of two. There is an improved exhaust manifold made in two pieces, and an automatic governor is fitted.
The final drive istill of the double-reduction type with a dead load-carrying axle and exposed shafts from the spiralbevel-drive case carrying pinions which engage with internally toothed rings on th_e wheels. The whole arrangement, however, has been entirely redesigned, so that the pinionand-ring drive is quite enclosed and operates in an oil bath, which is completely separated from the brake-shoe mechanism.
Each rear drum contains two pairs of brake shoes, one beside the other, and these are operated by an hydraulic mechanism. Instead, however, of locating the shoe-actuating cylinders within the brake drums, these are mounted ingeniously above the centre of the axle and take effect upon the cam-spindle levers. The pedal applies all four brake shoes in each rear drum, as well as brakes on the front wheels, whilst the hand lever operates, by rod linkage, one pair of shoes in each rear drum.
The four-eylindered engine of 115 ram. bore and 170 mm. stroke develops. about 75 blip. On the off side are an updraught Zenith carburetter and the exhaust manifold, the lead from 'which descends at the forward end. The crankcase and sump cover are of aluminium, as before, the pistons being Of the same metal, whilst the connecting rods are of steel. Lubrication is by two oil pumps, working in tandem, in the sump, one feeding the crankshaft and the other the camshaft, The original type of multi-plate clutch is retained and the four-speed gearbox is separately mountfd amidships.
The new model is improved in appearance by a higher radiator and is extremely sturdy, the maximum frame seetion being 9* ins. by 2i ins., and the chassis weighing approximately 3i tons. The Simplex wheels carry 40-in. by 8-in. heavy-duty tyres, twin tyres being fitted at the rear. Although the steering is of the same type as previously, we understand that it is much improved and gives far easier action.