The Latest Auster Fitments
13th October 1931
Page 65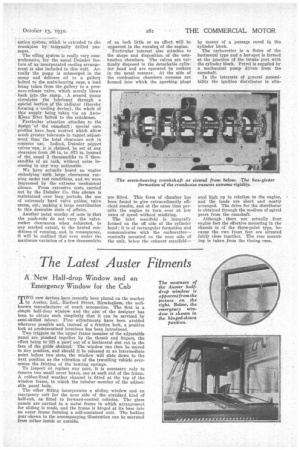 Page 65, 13th October 1931 —
The Latest Auster Fitments
Close
A .-New, Half-drop Window and an Emergency Window for the Cab T new devices have recently been placed on the market Auster, Ltd., 33arford Street, Birmingham, the wellknown manufacturer of coach accessories. The first is a simple half-drop window and the aim of the designer has been to obtain such simplicity that it can be serviced by semi-skilled labour. Fine, adjustments have been avoided wherever possible and, instead of a friction lock, a positive lock at predetermined locations has been introduced.
Two triggers on the upper frame member of the adjustable panel are pinched together by the thumb and fingers, the effect being to lift a pawl out of a horizontal slot cut in the face of the guide channel. The window can then be moved to any position, and should it be released at an intermediate point before two slots, the window will slide down to the next position as the vibration of the travelling vehicle overcomes the friction of the bearing springs.
To inspect or replace any part, it is necessary only to remove two small cover boxes, one at each end of the frame. A rubber-lined weather channel is fitted at the top of the window frame, in which the tubular member of the adjustable panel beds.
The other fitting incorporates a sliding window and an emergency exit for the near side of the standard kind of .as fitted to forward-control vehicles. The glass panels are carried in a metal frame in which arrangement for sliding is made, and the frame is hinged at its base into an outer frame forming a self-contained unit. The locking gear .shown in the accompanying illustration can be operated from El Wier inside or outside.