IMPORTANT ANNOUNCEMENT BY SOUTHERN COMMISSIONERS
13th October 1931
Page 62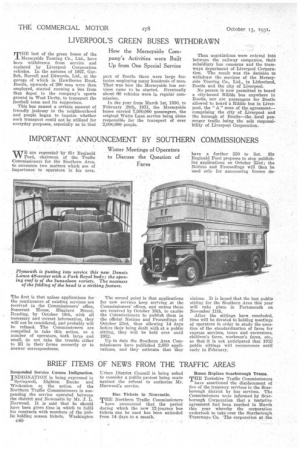 Page 62, 13th October 1931 —
IMPORTANT ANNOUNCEMENT BY SOUTHERN COMMISSIONERS
Close
Winter Meetings of Operators to Discuss the Question of Fares WE are requested-by 'Sir Reginald Ford, chairman of the Traffic Commissioners for the Southern Area, to announce two matters which are of importance to operators in his area.
The first is that unless applications for the continuance of existing services are received in the Commissioners' office, Somerset House, Blagrave Street, Beading, by October 16th, with all necessary and correct information, they will not be considered, and probably will be refused. The Commissioners are compelled to take this action, as a number of operators, both large and small, do not take the trouble either to fill in their forms correctly or to answer correspondence. The second point is that applications for new services keep arriving at the Commissioners' offices, and unless these are received by October 16th, to enable the Commissioners to publish them in the official Notices and Proceedings of October 23rd, thus allowing 14 days before their being dealt with at a public sitting, they will be held over until 1932.
Up to date the Southern Area Commissioners have published 2,850 applications, and they estimate that they have a further 250 to list. Sir Reginald Ford proposes to stop publishing applications on October 23rd; the Notices and Proceedings will then be used only for announcing licence de cisions. It is hoped that the last public sitting for the Southern Area this year will take place in Portsmouth on November 11th.
After the sittings have concluded, time will be devoted to holding meetings of operators in order to study the question of the standardization of fares for express services, tours and excursions, children's fares, workmen's fares, etc., so that it is not anticipated that 1932 public sittings will recommence until early in February.