CORPORATION EMPOWERED TO RUN MYSTERY TOURS
13th October 1931
Page 61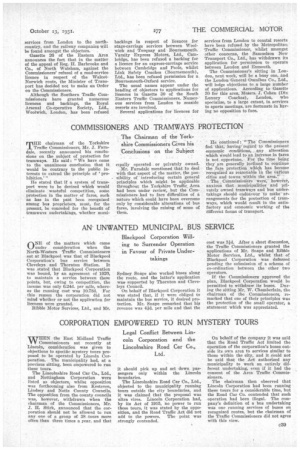 Page 61, 13th October 1931 —
CORPORATION EMPOWERED TO RUN MYSTERY TOURS
Close
Legal Conflict Between Lincoln Corporation and the Lincolnshire Road Car Co., Ltd. WHEN the East Midland Traffic Commissioners sat recently at Lincoln, consideration was given to objections to specific mystery tours proposed to be operated by Lincoln Corporation. The municipality had, at a previous sitting, been empowered to run these tours, The Lincelnshire Road Car Co., Ltd., and Nottingham Corporation were listed as objectors, whilst opposition was forthcoming also from Kesteven, Lindsey and Notts County Councils. The opposition from the county councils was, however, withdrawn when the chairman of the Commissioners, Mr. S. H. Stirk, announced that the corporation should not be allowed to run any one of a group of 38 tours more often than three times a year, and that
it should pick up and set down passengers only within the Lincoln boundaries.
The Lincolnshire Road Car Co., Ltd., objected to the municipality running tours outside the city boundaries, and it was claimed that the proposal was ultra vices. Lincoln Corporation had, by its Act of 1915, no power to run these tours, it was stated by the opposition, and the Road Traffic Act did not add to the powers. The point was strongly contended.
On behalf of the company it was said that the Road Traffic Act limited the operation of the corporation's buses outside its own area to services similar to those within the city, and it Could not be said that the Act authorized any municipality to work an entirely different undertaking, even if it had the consent of the Area Traffic Commissioners.
The chairman then observed that Lincoln Corporation had been running these tours for a considerable time, but the Road Car Co. contended that such operation had been illegal. The company's definition of a bus undertaking was one running services of buses on recognized routes, but the chairman of the Traffic Commissioners did not agree with this view.