AN UNWANTED MUNICIPAL BUS SERVICE Blackpool Corporation Willing to Surrender Operation
13th October 1931
Page 61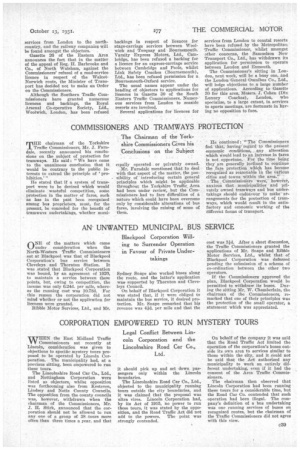 Page 61, 13th October 1931 —
AN UNWANTED MUNICIPAL BUS SERVICE Blackpool Corporation Willing to Surrender Operation
Close
in Favour of Private Undertakings ONE of the matters which came under consideration when the North-Western Traffic Commissioners sat at Blackpool was that of Blackpool Corporation's bus service between Cleveleys and Thornton Station. It was stated that Blackpool Corporation was bound, by an agreement of 1920, to maintain a service between these points, but, owing to competition, the income was only 6.24d. per mile, whereas the running cost was 10.78d. For this reason the corporation did not mind whether or not the application for licences were granted.
Ribble Motor Services, Ltd., and Mr. Sydney. Snape also worked buses along the route, and the latter's application was supported by Thornton and Cleveleys Council.
On behalf of Blackpool Corporation it was stated that, if it were obliged to maintain the bus service, it desired protection. Mr. Snare remarked that his revenue was 44d. per mile and that the
cost was 31d. After a short discussion, the Traffic Commissioners granted the applications of Mr. Snape and Ribble Motor Services, Ltd., whilst that of Blackpool Corporation was deferred pending the Submission of a scheme of co-ordination between the other two operators.
If the Commissioners approved the plan, Blackpool Corporation would be permitted to withdraw its buses. During the sitting Mr. W. Chamberlain, the chairman of the Commissioners, remarked that one of their principles was the protection a the small operator, a statement which was appreciated.