Overcoming the Dangers of Frost
13th October 1931
Page 53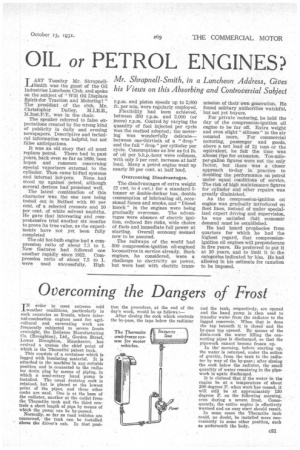 Page 53, 13th October 1931 —
Overcoming the Dangers of Frost
Close
IN order to meet extreme cold weather conditions, particularly in such countries as Russia, where internal-combustion engines used for agricultural and excavating work are frequently subjected to severe frosts overnight, the Reliance Manufacturing (lo. (Broughton), Ltd., Gordon Street, Lower Broughton, Manchester, has evolved a system the chief point of which is the Thermtite patent tank.
This consists of a container which is lagged with insulating material. It is attached to the machine in any suitable position and isconnected to the radiator drain plug by means of piping, in which a semi-rotary hand pump is installed. The usual draining cock is retained, but is placed at the lowest point of the pipes, and three other cocks are used. One is at the base of the radiator, another at the outlet from the Thermtite tank and the third controls a short length of pipe by means of which the pump can be by-passed. Normally, so far as road vehicles are concerned, the tank can be installed above the driver's cab. In that posi
tion the procedure, at the end of the day's work, would be as follows :— After closing the cock which controls the by-pass, the taps below the radiator and the tank, respectively, are opened and the hand pump is :then used to transfer water from the radiator to the lagged reservoir. When that is done the tap beneath it is closed and the by-pass tap opened. By means of the drain-cock the water filling the connecting pipes is discharged, so that the pipework cannot become frozen up.
In the morning, before starting up, the water is returned, under the action of gravity, from the tank to the radiator by way of the by-pass; after closing the cock below the radiator, the small quantity of water remaining in the pipework is again discharged.
It is claimed that if the water in the engine be at a temperature of about 200 degrees F. when work has ceased, it will still be at approximately 130 degrees F. on the following morning, even during a severe frost. Consequently, the entire engine is effectively warmed and an easy start should result.
In some cases the Thermtite tank could, no doubt, be installed more conveniently in some other position, such as underneath the body.