OIL or PETROL ENGINES?
13th October 1931
Page 53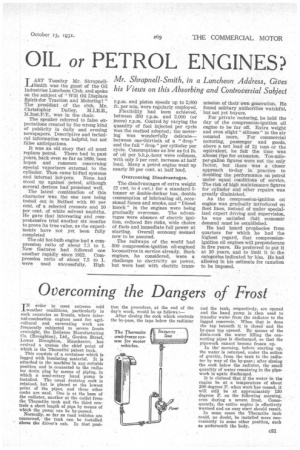 Page 53, 13th October 1931 —
OIL or PETROL ENGINES?
Close
Keywords :
Internal Combustion Engine
,
Energy
,
Technology
,
Petroleum
,
Engines
,
Stationary Engines
,
Compression Ratio
,
Homogeneous Charge Compression Ignition
,
Petrol Engine
,
Gasoline
,
Fuel Injection
,
Hot Bulb Engine
Mr. Shrapnell-Smith, in a Luncheon Address, Gives his Views on this Absorbing and Controversial Subject
T AST Tuesday Mr. ShrapnellJLISmith was the guest of the Oil Industries Luncheon Club, and spoke on the subject of "Will Oil Displace Spirit for Traction and Motoring? " The president of the club, Mr. Christopher Dailey, M.I.E.E., M.Inst.P.T., was in the chair.
The speaker referred to false expectations created by the wrong kind of publicity in daily and evening newspapers. Descriptive and technical information was helpful, but not false anticipations.
It was an old story that oil must replace petrol. There had in past years, back even so far as 1899, been hopes and rumours concerning special vaporizers external to the cylinder. Then came bi-fuel systems and internal hot-pots. None had stood up against petrol, although several devices had promised well.
The latest combination of this character was the one now being tested out in Belfast with 90 per cent, of a selected creosote and 10 per, cent, of white solvent naphtha. He gave that interesting and gomprehensive trial another six months to prove its true value, as the experiments have not yet been fully completed The old hot-bulb engine had a compression ratio of about 7.5 to 1. New features had followed one another rapidly since 1922. Compression ratio of about 7.5 to 1. were used successfully. High r.p.m. and piston speeds up to 2,000 ft. per min. were regularly employed.
Flexibility had been achieved, between 350 r.p.m. and 2,000 (or more) r.p.m. Control by varying the quantity of fuel injected per cycle was the method adopted ; the metering was wonderfully delicate— between one-thirtieth of a " drop " and the full " drop " per cylinder per cycle. Consumptions as low as 0.4 lb. of oil per b.h.p.-hour were coatmon, with only 5 per cent. increase at half load. Many a petrol engine went up nearly 30 per cent, at half load.
Overcoming Disadvantages.
The disadvantages of extra weight (2 cwt. to 4 cwt.) for a standard 5tonner or double-decker bus, double consumption of lubricating oil, occasional fumes and smoke, and "Diesel knock" in the engines were being gradually overcome. The advantages were absence of electric ignition, reduced fire risks, wide choice of fuels and immediate full power at starting. Overall economy seemed now to be assured.
The railways of the world had 300 compression-ignition oil-engined locomotives in service already. Such engines, he considered, were a challenge toelectricity as power, but were best with electric trans
mission of their own generation. He found military authorities watchful, but not yet buyers.
For private motoring, he held the day of the compression-ignition oil engine to be far off. Extra weight and even slight " oiliness " in the air counted more. For commercial motoring, passenger and goods, above a net load of 2i tons or the equivalent, he felt the time was almost ripe for extension. Ton-mileper-gallon figures were not the only factor, but there was a closer approach to-day in practice to doubling the performance on petrol under equal conditions of service. The risk of high maintenance figures for cylinder and other repairs was greatly diminished.
As the compression-ignition oil engine was gradually introduced on fleet lines, instead of under specialized expert driving and supervision, he was satisfied that economic demand must be established.
He had heard prophecies from quarters for which he had the highest regard, that compressionignition oil engines will preponderate In five years. He preferred to put it at 10 years, and to limit it to the categories indicated by him. He had allowed in his estimate for taxation to be imposed.