New Flettner System
13th October 1931
Page 52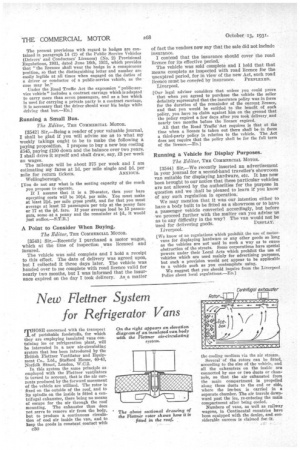 Page 52, 13th October 1931 —
New Flettner System
Close
for Refrigerator Vans
THOSE concerned with the transpoit of perishable foodstuffs, for which they are employing insulated vans containing ice or refrigeration plant, will be interested in a new air-circulating system that has been introduced by the British Flettner Ventilator and Equipment Co., Ltd., Stafford House, 40.43, Norfolk Street, London, W.C.2.
In this system the same principle as employed with the Flettner ventilators is turned to account, that is the air currents produced by the forward movement of the vehicle are utilized. The rotor is fixed on the outside of the roof, and to its spindle on the inside is fitted a centrifugal exhauster, there being no means of escape for the air through the roof mounting. The exhauster thus does not serve to remove air from the body, but to produce a continuous circulation of cool air inside the van and to keep the goods in constant contact with
c30 the cooling medium via the air stream.
Several of the rotors can be fitted, according to the size of the vehicle, and all the exhausters on the inside are connected by one or two ducts or thannels, so that the air exhausted from the main compartment is propelled along these ducts to the end or side, where the ice-box is carried in a separate chamber. The air travels downward past the ice, re-entering the main
compartment after being cooled. • Numbers of vans, as well as railway wagons, in Continental countries have been equipped with the device, and considerable success is claimed for it.