OPINIONS and QUERIES
13th October 1931
Page 51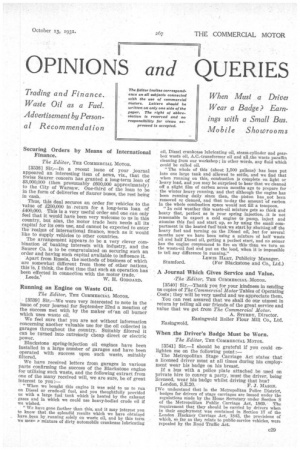 Page 52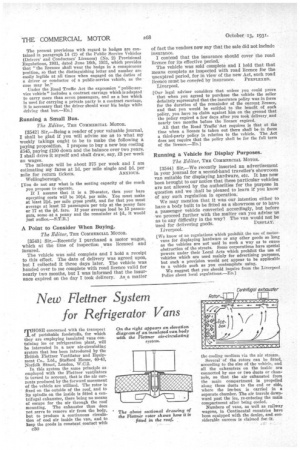 Page 51, 13th October 1931 —
OPINIONS and QUERIES
Close
Trading and Finance. Waste Oil as a Fuel. Advertisement by Personal Recommendation When Must a Driver Wear a Badge? Earnings with a Small Bus. Mobile Showrooms
Securing Orders by Means of International Finance.
The Editor, THE COMMERCIAL MOTOR.
[3538] Sir,--In a recent issue of your journal appeared an interesting item of news, viz., that the Swiss Saurer concern has granted a long-term loan of $3,000,000 (then presumably £600,000 approximately) to the City of Warsaw. One-third of the loan to be in the form of deliveries of Saurer buses, the rest being in cash.
Thus, this deal secures an order for vehicles to the value of £200,000 in return for a long-term loan of £400,000. This is a very useful order and one can only feel that it would have been very welcome to us in this country, but alas, the motor trade here needs all its capital for its own use, and cannot be expected to enter the realms of international finance, much as it would like to supply vehicles to other countries.
The arrangement appears to be a very clever combination of banking interests with industry, and the Saurer Co. is to be congratulated on securing such an order and having such capital available to influence it.
'Apart from Russia, the methods of business of which are somewhat different from those of other nations, this is, I think, the first time that such an operation has been effected in connection with the motor trade.•
Leeds.' W. H. GODDARD.
Running an Engine on Waste Oil.
The Editor, THE COMMERCIAL MOTOR.
[3539] Sir,—We were very interested to note in the issue of your journal for September 22nd a mention of the success met with by the maker of ran oil burner which uses waste oil.
We feel sure that you are not without information concerning another valuable use for the oil collected in garages throughout the country. Suitably filtered it can be turned into tlxtremely cheap direct or electric power.
Blackstone spring-injection oil engines have been installed in a large number of garages and have been operated with success upon such waste, suitably filtered.
We have received letters from garages in various parts confirming the success of the Blackstone engine for utilizing such waste, and the following extract from one of the many received will, we are sure, be of great interest to you:—
" When we bought this engine it was sold to us to run on Diesel or crude-oil fuel, and you thoughtfully provided us with a large fuel tank which is heated by the ex.haust gases and in which we could use heavy-bodied crude oil if we wished.
"We have gone farther than this, and it may interest you to know that the splendid results which we have obtained have been by running solely on waste, oil, and by this term we mean mixture of dirty automobile crankcase lubricating
oil, Diesel crankcase lubricating oil, steam-cylinder and gearbox waste oil, A.C.-transformer oil and all,the waste paraffin cleaning from our workshop ; in other words, any fluid which could be called oil.
"The whole of this (about 1,500 gallons)' has been put into one large tank and allowed to settle, and we find that when running on this, combustion is complete on light or heavy load, and you may be surprised to hear that we cleaned off a slight film of carbon seven months ago to prepare for the winter heavy running, and that although the engine has been running daily since then, the piston has not been removed or cleaned, and that to-day the amount Of carbon in the whole combustion space would not fill a teaspoon.
"In cold weather this waste-oil mixture gets so thick and heavy that, perfect as is your spring injection, it is not reasonable to expect a cold engine to pump, inject and atomize this fuel and start up, so by using the small compartment in the heated fuel tank, we start by shutting:off the heavy fuel and turning on the Diesel oil, .but for several months now we have been using a mixture of half waste oil and half Diesel oil, getting a perfect start, and no sobner has the engine commenced to fire on this than we turn on the waste-oil fuel and put on the load, when it is impossible to tell any difference in running."
LEWIS HART, Publicity Manager.
Stamford. (For Blackstone and Co., Ltd.)
A Journal Which Gives Service and Value.
'The 'Editor, THE COMMERCIAL MOTOR.
[3540] Sir,—Thank you for your kindness in sending us copies of The Commercial Motor Tables of Operating Costs; they will be very useful and we appreciate them. You can rest assured that we shall do our utmost in return by telling all our friends of the great service and value that we get from The Comm,ercial Motor. A. STURDY, Director, Easingwold Roller Flour Mill Co., Ltd. Easingwold.
When the Driver's Badge Must be Worn.
The Editor, THE COMMERCIAL MOTOR.
t35413 Sir,—t should be grateful if you could enlighten me on the following point :— The Metropolitan Stage Carriage Act states that a licensed driver must at all times during his employment wear his badge on his breast.
If a bus with a police plate attached be used on private hire to convey a party, must the driver, being licensed, wear his badge whilst driving that bus?
London, S.E.20. F. J. MASON.
[We understand that in the Metropolitan Police District, badges for drivers of stage carriages are issued under the regulations made by the Home Secretary under Section 8 of the Metropolitan Public Carriage Act, 1869. The requirement that they should be carried by drivers when in their employment was contained in Section 17 of the London . Hackney Carriage Act, 1843, the provisions of which, so far as they relate to public-service vehicles, were repealed by the Road Traffic Act. The present provisions with regard to badges are contained in paragraph 14 (2) of the Public Service Vehicles (Drivers' and Conductors' Licences) (No. 2) Provisional Regulations, 1931, dated June 16th, 1931, which provides that "the licensee shall wear the badge in a conspicuous position, so that the distinguishing letter and number are easily legible at all times when engaged on the duties of a driver or conductor of a public-service vehicle, as the case may be."
Under the Road Traffic Act the expression "public-service vehicle" includes a contract carriage which is adapted to carry more than seven passengers, and as a bus which is used for carrying a private party is a contract carriage, it is necessary that the driver should wear his badge while driving that bus.—ED.1
Running a Small Bus.
The Editor, THE COMMERCIAL MOTOR.
[3542] Sir,—Being a reader of your valuable journal, I shall be glad if you will advise me as to what my weekly takings ought to be to make the following a paying proposition. I propose to buy a new bus costing £545, paying £150 down and the balance over two years. I shall drive it myself and shall draw, say, a per week as wages.
The mileage will be about 375 per week and I am estimating my fares at id, per mile single and id. per mile for return tickets. ANXIOUS. Wellingborough.
[You do not say what is the seating capacity of the coach you propose to operate.
If I assume that it is a 20-seater, then your bare operating costs will be 104d. per mile. You must make at least 21d. per mile gross profit, and for that you must average at least 13 passengers per trip at the penny fare or 17 at the id. fare. If your average load be 15 passengers, some at a penny and the remainder at Id., it would just suffice.—S.T.R.] A Point to Consider When Buying.
The Editor, THE COMMERCIAL MOTOR.
[35431 Sir,—Recently I purchased a motor wagon, which at the time of inspection was licensed and Insured.
The vehicle was sold complete and I hold a receipt to this effect. The date of delivery was agreed upon, but I collected it three days later. The vehicle was handed over to me complete with road licence valid for nearly two months, but I was informed that the insurance expired on the day I took delivery. As a matter
of fact the vendors now say that the sale did not include insurance.
I contend that the insurance should cover the road licence for its effective period.
The vehicle was sold complete and I hold that that means complete as inspected with road licence for the unexpired period, for in view of the new Act, such road licence must be coveted by insurance. PERPLEXED. Liverpool.
[Our legal adviser considers that unless you could prove • that when you agreed to purchase the vehicle the seller definitely represented that the insurance policy was in force for the duration of the remainder of the current licence, and that you would be entitled to the benefit of such policy, you have no claim against him on the ground that the policy expired a few days after you took delivery and nearly two months before the licence expired.
All that the Road Traffic Act requires is that at the time when a licence is taken out there shall be in force a third-party policy in relation to the vehicle. The Act does not require that the policy shall be for the full term of the licence.—En.] Running a Vehicle for Display Purposes.
The Editor, THE COMMERCIAL MOTOR.
[35441 Sir,—We recently inserted an advertisement In your journal for a second-hand traveller's showroom van suitable for displaying hardware, etc. It has now been brought to our notice that these particular vehicles are not allowed by the authorities for the purpose in question and we 3hall be pleased to learn if you know of any such regulation in operation: We may mention that it was our intention either to have a body built to be fitted as a showroom or to have a passenger vehicle converted accordingly, but before we proceed further with the matter can you advise us as to any difficulty hi the way? The van would not be used for delivering goods. DISPLAY. Liverpool.
[We know of no regulations which prohibit the use of motor. vane for displaying hardware or any other goods so long as the vehicles are not used in such a way as to cause obstruction of the streets. Some corporations have special powers under their Local Acts which prohibit the use of vehicles which are used mainly for advertising purposes, but such a provision would not appear to be applicable to a vehicle such as you contemplate using.
We suggest that you should inquire from the Liverpool Police about local regulations.—ED.]