AN IMPROVED SERVO BRAKING SYSTEM
13th October 1931
Page 46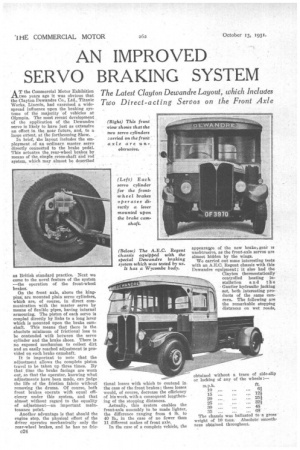 Page 46, 13th October 1931 —
AN IMPROVED SERVO BRAKING SYSTEM
Close
The Latest Clayton Dewandre Layout, which Includes Two Direct-acting Servos on the Front Axle
A T the Commercial Motor Exhibition 2-1..two years ago it was obvious that the Clayton Dewandre Co., Ltd., Titanic Works, Lincoln, had exercised a widespread influence upon the braking systems of the majority of vehicles at Olympia. The most recent development of the application of the Dewandre servo is likely to have just as extensive an effect in the near future, and, to a large extent, at the forthcoming Show.
In brief, the layout includes the employment of an .ordinary master servo directly connected to the brake pedal. This actuates the rear-wheel brakes by means of the, simple cross-shaft and rod system, which may almost be described
as British standard practice. Next we come to the novel feature of the system —the operation of the front-wheel brakes.
On the front axle, above the kingpins, are mounted plain servo cylinders, which are, of course, in direct communication with the master servo by means of flexible pipes, having internal armouring. The piston of each servo is coupled directly by links to a long lever which is mounted upon the brake camshaft. This means that there is the absolute minimum of frictional loss to be contended with between the servo cylinder and the brake shoes. There is no exposed mechanism to collect dirt and an easily reached adjustment is provided on each brake camshaft.
It is important to note that the adjustment allows the complete piston travel to be taken up three times. By that time the brake facings are worn out, so that the operator, knowing what adjustments have been made, can judge the life of the friction fabric without removing the drums. Of course, both front brakes operate with equal efficiency under this system, and that almost without regard to the equality of adjustment—an important maintenance point.
Another advantage is that should the engine stop, the physical effort of the driver operates mechanically only the rear-wheel brakes, and he has no fric c24 tional losses with which to contend in the ease of the front brakes ; these losses would, of course, decrease the efficiency of his work, with a consequent lengthening of the stopping distances.
Actually, this System enables the front-axle assembly to be made lighter, the difference ranging from 4 lb. to 40 lb., in the case of no fewer than 11 different makes of front axle.
In the case of a complete vehicle, the
appearan,ce of the new brak4gear unobtrusive, as the front-axle servos are almost hidden by the wings.
We carried out some interesting tests with an A.E.C. Regent chassis with this Dewandre equipment ; it also had the Clayton thermostatically controlled heating installation and the Gautier hydraulic jacking set, both interesting products of the same concern. The following are the remarkable stopping distances on wet roads,