Items of News in a Few Lines
13th October 1931
Page 45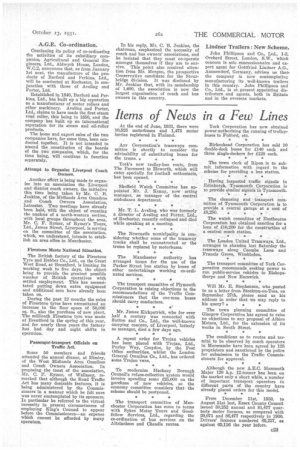 Page 45, 13th October 1931 —
Items of News in a Few Lines
Close
At the end of June, 1931, there were 10,525 motorbuses and 1,475 motor lorries registered in Finland.
Ayr Corporation's tramways committee is shortly to consider the advisability of substituting buses for the trams. * * York's new trolley-bus route, from The Pavement to Flesvorth, which will cater specially for football enthusiasts, has been opened.
Sheffield Watch Committee has appointed , Mr. J. Kenny, new acting manager, as manager of the central ambulance department.
Mr. T. L. Aveling, who was formerly a director of Aveling and Porter, Ltd., of Rochester, recently collapsed and died while speaking at a meeting.
The Newcastle municipality is considering whether some of the tramway tracks shall be reconstructed or the trams be replaced by motorbuses.
The Manchester authority has arranged terms for the use of the Parker Street bus station by buses of other undertakings working co-ordinated services.
The transport committee of Plymouth Corporation is raising objections to the recommendations of the Traffic Commissioners that the one-man buses should carry conductors.
Mr. James Kirkpatrick, who for over half a century was connected with Sutton and Co., Ltd., the well-known carrying concern, of Liverpool, latterly as manager, died a few days ago.
A repeat order for Trojan vehicles has been placed with Trojan, Ltd., Purley Way, Croydon, by the Post Office authorities, whilst the London General Omnibus Co., Ltd., has ordered some Trojan vans.
To modernize Hackney Borough Council's refuse-collection system would involve spending some £25,000 on the purchase of new vehicles, so the economy committee considers that the scheme should be postponed
The transport committee of Manchester Corporation has come to terms with Sykes Motor Tours and Goodfellow Services, Ltd., regarding the co-ordination of bus services on the Altrincham and Cheadle routes.
York Corporation has now obtained power authorizing the running of trolleybuses to Fulford, etc.
Birkenhead Corporation has sold 10 double-deck buses for £140 each and three single-deckers for £120 each.
The town clerk of Ripon is to submit information with regard to the scheme for providing a bus station.
Having inspected traffic signals in Edinburgh, Tynemouth Corporation is to provide similar signals in Tynemouth.
The cleansing and transport committee of Tynemouth Corporation is to provide a central garage at a cost of £8,250. * The watch committee of Eastbourne Corporation has obtained sanction for a loan of £10,200 for the construction of a central coach station.
The London United Tramways, Ltd., arranged to abandon last Saturday the tramways along Coombe Lane and Francis Grove, Wimbledon.
The transport committee of York Corporation recommends seeking power to run public-service vehicles to Bishopsthorpe and New Earswick.
WM Mr. E. Stephenson, who posted th us a letter from Stockton-on-Tees, on September 27th, please send us his address in order that we may reply to his query? * The town planning committee of Glasgow Corporation has agreed to raise no objections to any proposal of Albion Motors, Ltd., for the extension of its works in South Street.
The conditions as to routes and termini to be observed by coach operators in Morecambe have been agreed by 125 proprietors and sanctioned by the police for submission to the Traffic Commissioners for approval.
Although the new A.E.C. Mammoth Major 120 h.p. 12-tonner has been on the market only a short while, a number of important transport operators in different parts of the country have already placed orders for this model.
From December 31st, 1930, to August 31st last, Essex County Council issued 30,252 annual and 81,477 quarterly motor licences, as compared with 29,071 and 86,477 respectively in 1930. Drivers' licences numbered 65,227, as against 65,116 the year before.