ONE HEARS
13th October 1931
Page 41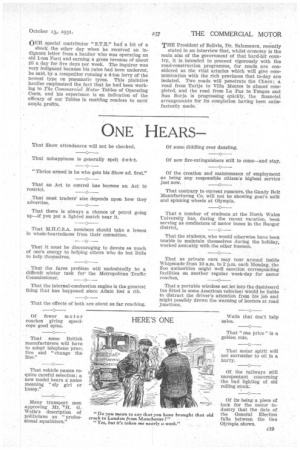 Page 41, 13th October 1931 —
ONE HEARS
Close
That Show, attendances will not be checked. That unhappiness is generally spelt d-e-b-t.
" Thrice armed is he who gets his Show ad. first."
That an Act to control has become an Act to restrict.
That most traders' size depends upon how they advertise, That there is always a chance of petrol going up—if you put a lighted match near it.
That M.H.C.S.A. members should take a lesson in whole-heartedness from their committee.
That it must be discouraging to devote so much of one's energy to helping others who do but little to help themselves.
That the fares problem will undoubtedly be a difficult winter task for the Metropolitan Traffic Commissioner.
That the internal-combustion engine is the greatest thing that has happened since Adam lost a rib.
That the effects of both are about as far reaching.
Of fewer motor coaches giving speedcops good spins.
That some British manufacturers will have to adopt telephone practice and "change the line."
That vehicle names require careful selection; a new model bears a name meaning "sly girl or hussy."
Many transport men approving Mr. 'tH. G. Wells's description of politicians as "professional squabblers." Of some diddling over dazzling.
Of new fire-extinguishers still to come—and stay.
Of the creation and maintenanee of employment as being any responsible citizen's highest service just now. 0 That contrary to current rumours, the Gandy Belt Manufacturing Co. will not be showing goat's milk and spinning wheels at Olympia.
That a number of students at the North Wales University has, during the recent vacation, been serving as conductors of motor buses in the Bangor district, That the students, who would otherwise have been unable to maintain themselves during the holiday, worked amicably with the other busmen.
That as private cars may tour around inside Whipsnade from 10 a.m. to 2 p.m. each Monday, the Zoo authorities might well sanction corresponding facilities on another regular week-day for motor coaches.
That a portable wireless set let into the dashboard (as fitted in some American vehicles) would be liable to distract the driver's attention from his job and might possibly drown the warning of hooters at road junctions.
Wails that don't help sales.
That "one price" is a golden rule.
That motor spirit will not surrender to oil in a hurry.
Of the railways still unrepentant concerning the bad lighting of old rolling stock.
Of its being a piece of luck for the motor industry that the date of the General Election falls between the two Olympia shows.