LOOSE LEAVES
13th October 1931
Page 40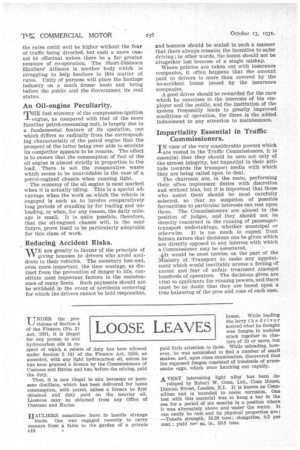 Page 41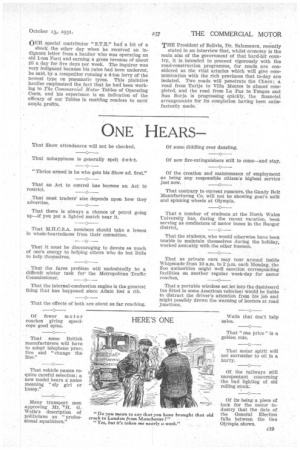 Page 40, 13th October 1931 —
LOOSE LEAVES
Close
UNDER the provisions of Section 4 of the Finance (No. 2) Act, 1931, it is illegal for any person to mix hydrocarbon oils in respect of which a rebate of duty has been allowed under Section 2 (3) of the Finance Act, 1928, as amended, with any light hydrocarbon oil, unless he has been granted a licence by the Commissioners of Customs and Excise and has, before the mixing, paid the duty.
Thus, it is now illegal to mix kerosene or kerosene distillate, which has been delivered for home consumption, with petrol, unless a licence be first obtained and duty paid on the heavier oil. Licences may be obtained from any Office of Customs and Excise.
HAULIERS sometimes have to handle strange loads. One was engaged recently to carry manure from a farm to the garden of a private c18 • house. While loading the lorry the driver noticed what he thought was fungus in nodules stuck together in clusters of 19 or more, but paid little attention to them. While unloading, however, he was astonished to find a number of small snakes, and, upon close examination, discovered that the supposed fungus consisted of hundreds of grasssnake eggs, which were hatching out rapidly.
AVERY interesting light alloy has been de veloped by Robert W. Goan, Ltd., Goan House, Duncan Street, London, N.1. It is known as Coanailium and is intended to resist corrosion. One test with this material was to hang a bar in the sea for a period of six months in a position where it was alternately above and under the water. It can easily be cast and its physical properties are: —Tensile strength, 13.28 tons; elongation, 8.5 per cent.; yield per $Q. in., 10,8 tons. OUR special contributor " S.T.R." had a bit of a shock the other day when he received an indignant letter from a haulier who was operating an old 1-ton Ford and earning a gross revenue of about £6 a day for five days per week. The inquirer was very indignant because his rates had been undercut, he said, by a competitor running a 4-ton lorry of the newest type on pneumatic tyres. This plaintive haulier emphasized the fact that he had been working to The Commercial Motor Tables of Operating Costs, and his experience is an indication of the efficacy of our Tables in enabling readers to earn` ample profits. THE President of Bolivia, Dr. Salamanca, recently stated in an interview that, whilst economy is the main aim of the government of that hard-hit country, it is intended to proceed vigorously with the road-construction programme, for roads are considered as the vital arteries which will give communication with the rich provinces that to-day are isolated. Two roads will penetrate the Chaco ; a road from Tarija to Villa Montes is almost completed, and the road from La Paz to Yungas and San Borja is progressing quickly, the financial arrangements for its completion having been satisfactorily made.