Harsh Words to Operators by Ministry Man
13th November 1942
Page 20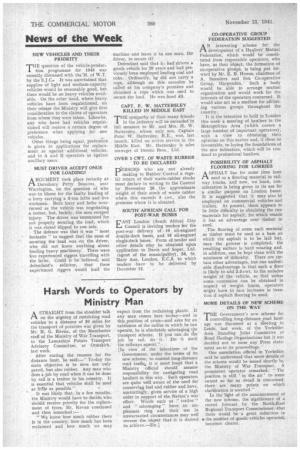 Page 20, 13th November 1942 —
Harsh Words to Operators by Ministry Man
Close
ASTRAIGHT from the shoulder talk on the urgency of restricting road vehicles to a distance of 30 miles for the transport of potatoes was given by Mr. K. G. Kevan, of the Manchester staff of the Ministry of Wir Transport, to the Lancashire Potato Transport Advisory Committee, at Ormskirk, last week.
After stating the reasons for the distance limit, he said:—" To-day the main objective is to save not only petrol, but also rubber. Any man who does a job by road when it can be done by rail is a traitor to his country. It is essential that vehicles shall be used I as little as possible."
It was likely that, in a few months, the Ministry would have to decide who should receive priority for the replacement of tyres, Mr. Kevan continued and then remarked :— " We know how much rubber there is in the country, how much has been reclaimed and how much we may expect from the reclaiming plants. If any man comes here to-day—and in this.position of crisis—and asks for an extension of the radius in which he can operate, he is absolutely sabotaging the transport scheme. If you can do the job by rail, do it. Do it until the railways squeal."
[In view of the intentions of the Government, under the terms of its new scheme, to control long-distance road traffic it is most inapt that a Ministry official should assume responsibility for castigating road hauliers in this way. Such operators are quite well aware of the need for conservittg fuel and rubber and have, unstintingly, given service of a high order in support of the Nation's war effort. Words such as " traitor" and " sabotaging " have an unpleasant ring and their use in unwarranted circumstances may well reverse the object that it is desired to achieve.—ED.3