THE MECHANICAL HAMBLIN( HIBITION
13th May 1966
Page 86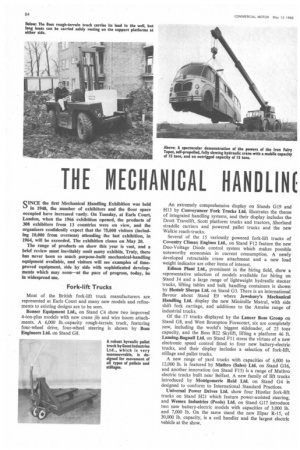 Page 87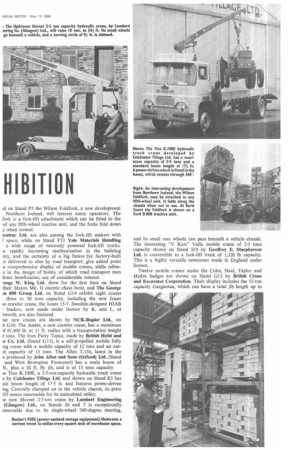 Page 88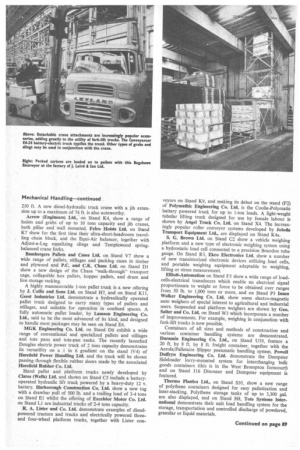 Page 91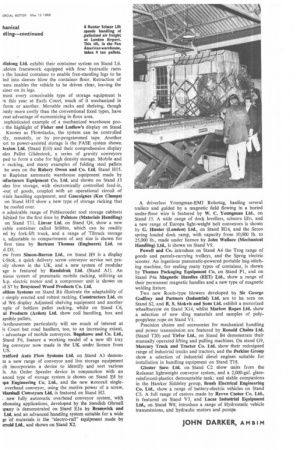 Page 86, 13th May 1966 —
THE MECHANICAL HAMBLIN( HIBITION
Close
Keywords :
Technology
,
Business
,
Transport
,
Materials Handling
,
Crane
,
Forklift Truck
,
Pallet Jack
,
Conveyor Belt
,
Warehouse
,
Pallet
,
Material Handling Equipment
,
Conveyor System
SINCE the first Mechanical Handling Exhibition was held in 1948, the number of exhibitors and the floor space occupied have increased vastly. On Tuesday, at Earls Court, London, when the 1966 exhibition opened, the products of 308 exhibitors from 13 countries were on view, and the organizers confidently expect that the 75,000 visitors (including 10,000 from overseas) attending the fast exhibition, in 1964, will be exceeded. The exhibition closes on May 20.
The range of products on show this year is vast, and a brief review must inevitably omit many exhibits. Truly, there has never been so much purpose-built mechanical-handling equipment available, and visitors will see examples of timeproved equipment, side by side with sophisticated developments which may soon—at the pace of progress, today, be in widespread use.
Fork-lift Trucks
Most of the British fork-lift truck manufacturers are represented at Earls Court and many new models and refinements to existing designs are to be seen.
Bonser Equipment Ltd.', on Stand C4 show two improved 4-ton-plus models with new crane jib and wire boom attachments. A 6,000 lb.-capacity rough-terrain truck, featuring four-wheel drive, four-wheel steering is shown by Boss Engineers Ltd. on Stand 68. An extremely comprehensive display on Stands G19 and H13 by Conveyancer Fork Trucks Ltd. illustrates the theme of integrated handling systems, and their display includes the Drott Travelift, Scott platform trucks and tractors, Shorland straddle carriers and powered pallet trucks and the new Walkie reach-trucks.
Several of the 15 variously powered fork-lift trucks of Coventry Climax Engines Ltd., on Stand F12 feature the new Duo-Voltage Diode control system which makes possible noteworthy economies in current consumption. A newly developed retractable crane attachment and a new load weight indicator are other items of interest.
Edison Plant Ltd., prominent in the hiring field, show a representative selection of models available for hiring on Stand J4 and a large range of lightweight hydraulic stacker trucks, lifting tables and bulk handling containers is shown by Hestair Sherpa Ltd. on Stand 63. There is an international flavour about Stand E9 where Jewsbury's Mechanical Handling Ltd. display the new Minimille Matra!, with side shift fork carriage, and additions to the Ameise range of industrial trucks.
Of the 17 trucks displayed by the Lancer Boss Group on Stand 08, and West Brompton Forecourt, six are completely new, including the world's biggest sideloader, of 25 tons capacity, and the Boss B22 Skylift, lifting a platform 46 ft. Lansing-Bagnall Ltd. on Stand Fl 1 stress the virtues of a new electronic speed control fitted to four new battery-electric trucks, and their display includes a selection of fork-lift, stillage and pallet trucks.
A new range of yard trucks with capacities of 6,000 to 12,000 lb. is featured by Matbro (Sales) Ltd. on Stand 016, and another innovation (on Stand F15) is a range of Matbro electric trucks built near Belfast. A new family of lift trucks introduced by Montgomerie Reid Ltd. on Stand G4 is designed to conform to International Standard Practices.
Universal Power Drives Ltd. show four Hustler fork-lift trucks on Stand H21 which feature power-assisted steering, and Wessex Industries (Poole) Ltd. on Stand 617 introduce two new battery-electric models with capacities of 3,000 lb. and 7,000 lb. On the same stand the new Elpar R-I5, of 30,000 lb. capacity, is a coil handler and the largest electric vehicle at the show. al on Stand P5 the Wilson Foldfork, a new development Northern Ireland, will interest many operators. The fork is a fork-lift attachment which can be fitted to the of any fifth-wheel tractive unit, and the forks fold down y when stowed.
tcatruc Ltd. are also among the fork-lift makers with space, while on Stand F13 Yale Materials Handling a wide range of variously powered fork-lift trucks. Le rapidly increasing mechanization in the building ;try, and the certainty of a big future for factory-built ES delivered to sites by road transport, give added point Le comprehensive display of mobile cranes, while refines in the design of hoists, of which road transport men lirect beneficiaries, are of considerable interest.
!orge W. King Ltd. show for the first time on Stand their Maton Mk. II electric chain hoist, and The George .tn 600 Group Ltd. on Stand 014 exhibit eight cranes three to 30 tons capacity, including the new Jones on crawler crane, the Jones 15-7. Swedish-designed HIAB r loaders, now made under licence by K. and L. at iworth, are also featured_ iur new cranes are shown by NCK-Rapier Ltd., on d 010. The Andes, a new crawler crane, has a maximum if 91,400 lb. at lift, radius with a transportation weight ) tons. The Iron Fairy Topaz, made by British Hoist and le Co. Ltd. (Stand G15), is a self-propelled mobile fully ing crane with a mobile capacity of 12 tons and an out d capacity of 15 tons. The Allen T.154, latest in the e produced by John Allen and Sons (Oxford) Ltd. (Stand and West Brompton Forecourt) has a main boom of ft., plus a 20 ft. fly jib, and is of 15 tons capacity.
ie Tico K.I00E, a 2.5-ton-capacity hydraulic truck crane e by Colchester Tillage Ltd. and shown on Stand E3 has sin boom length of 17.5 ft. and features power-driven ing. Centrally clamped on to the vehicle chassis, its price 155 seems reasonable for its undoubted utility.
ie new Hornet 2.5-ton crane by Lambert Engineering (Glasgow) Ltd., on Stands 36 and 7 is exceptionally oeuvrable due to us single-wheel 360-degree steering, and its small rear wheels can pass beneath a vehicle chassis. The interesting "V Kart" Valla mobile crane of 2-5 tons capacity shown on Stand S19 by Geoffrey E. Macpherson Ltd. is convertible to a fork-lift truck of 1,320 lb capacity. This is a highly versatile newcomer made in England under licence.
Twelve mobile cranes under the Coles, Neal, Taylor and Hydra badges are shown on Stand 013 by British Crane and Excavator Corporation. Their display includes the 55-ton capacity Gargantua, which can have a total jib length up to
Mechanical Handling—continued 210 ft. A new diesel-hydraulic truck crane with a jib extension up to a maximum of 74 ft. is also noteworthy.
Acrow (Engineers) Ltd., on Stand K4, show a range of hoists and grabs of up to 10 tons capacity and jib cranes, both pillar and wall mounted. Felco Hoists Ltd. on Stand K7 show for the first time their ultra-short-headroom travelling chain block, and the Equi-Air balancer, together with Adjust-a-Leg equalizing slings and Templewood springbalanced crane forks.
Bambergers Pallets and Cases Ltd. on Stand V7 show a wide range of pallets, stillages and packing cases in timber and plywood and P.C. and C.K. Chase Ltd. on Stand DI show a new design of the Chase "walk-through" transport cage, collapsible box pallets, hopper pallets, and drum and live storage racking.
A highly manoeuvrable 1-ton pallet truck is a new offering by J. Collis and Sons Ltd. on Stand H7, and on Stand K11, Geest Industries Ltd. demonstrate a hydraulically operated pallet truck designed to carry many types of pallets and stillages, and suitable for operation in confined spaces. A fully automatic pallet loader, by Lamson Engineering Co. Ltd., said to be the most advanced of its kind, and designed to handle most packages may be seen on Stand E4.
MGK Engineering Co. Ltd. on Stand D6 exhibit a wide range of conventional and specialized pallets and stillages and tote pans and tote-pan racks. The recently launched Douglas electric power truck of 2 tons capacity demonstrates its versatility on a I in 6 gradient on the stand (V4) of Harefield Power Handling Ltd. and the truck will be shown passing through flexible rubber doors made by the associated Harefield Rubber Co. Ltd.
Hand pallet and platform trucks newly developed by Clares (Wells) Ltd. and shown on Stand C.5 include a batteryoperated hydraulic lift truck powered by a heavy-duty 12 v. battery. Harborough Construction Co. Ltd. show a new tug with a drawbar pull of 500 lb. and a trailing load of 3-4 tons on Stand El whilst the offering of Excelsior Motor Co. Ltd. on Stand LI are industrial trucks of 2-4 tons capacity.
R. A. Lister and Co. Ltd. demonstrate examples of dieselpowered tractors and trucks and electrically powered threeand four-wheel platform trucks, together with Lister con veyors on Stand K9, and making its debut on the stand (F2) of Polymathic Engineering Co. Ltd. is the Coolie-Polymatic battery powered truck for up to 1-ton loads. A light-weight tubular lifting truck designed for use by female labour is shown by Angel Truck Co. Ltd. on Stand X4. The increasingly popular roller conveyor systems developed by Joloda Transport Equipment Ltd., are displayed on Stand K4a.
S. G. Brown Ltd. on Stand C2 show a vehicle weighing platform and a new type of electronic weighing system using a hydrostatic load cell connected to a precision Bourdon tube gauge. On Stand R3, Ekco Electronics Ltd. show a number of new transistorized electronic devices utilizing load cells, and portable weighing equipment adaptable to weighing, lifting or stress measurement.
Elliott-Automation on Stand F5 show a wide range of loadcells-electrical transducers which enable an electrical signal proportionate to weight or force to be obtained over ranges from 50 lb. to 1,000 tons or more, and on Stand P3 Limes Walker Engineering Co. Ltd. show some elect ro-magnetic auto weighers of special interest to agricultural and industrial users. Suspended and platform weighers are shown by Geo. Salter and Co. Ltd. on Stand W3 which incorporate a number of improvements. For example, weighing in conjunction with fork-lift trucks is now possible.
Containers of all sizes and methods of construction and various container handling systems are demonstrated. Duramin Engineering Co. Ltd., on Stand U19, feature a 20 ft. by 8 ft. by 8 ft. freight container, together with the Aerola/Palletaire Slipper pneumatic handling system. Powell Duffryn Engineering Co. Ltd. demonstrate the Dempster Sideloader lorry-mounted system for interchanging bulk goods containers (this is in the West Brompton forecourt) and on Stand J16 Dinosaur and Dumpster equipment is featured.
Thermo Plastics Ltd., on Stand SIO, show a new range of polythene containers designed for easy palletization and inter-stacking. Polythene storage tanks of up to 3,300 gal. are also displayed, and on Stand H8, Tote Systems International demonstrate their unit load handling system for the storage, transportation and controlled discharge of powdered, granular or liquid materials.
)1Ialong Ltd. exhibit their container system on Stand L6. ;eleton framework equipped with four hydraulic rams s the loaded container to enable free-standing legs to be ted into sleeves blow the container floor. Retraction of -ams enables the vehicle to be driven clear, leaving the ainer on its legs.
most every conceivable type of storage equipment is rn this year at Earls Court, much of it mechanized in form or another. Movable racks and shelving, though pusly more costly than the conventional fixed types, have reat advantage of economizing in floor area.
sophisticated example of a mechanized warehouse pro; the highlight of Fisher and Ludlow's display on Stand Known as Flowstacka, the system can be controlled remotely, or by pre-programmed tape. Another ert to power-assisted storage is the PASE system shown )exion Ltd. (Stand E10) and their comprehensive display ides Pallet Glidestock, a series of gravity conveyors ped to form a cube for high density storage. Mobile and n racking, and many examples of folding steel pallets be seen on the Rubery Owen and Co. Ltd. Stand HIS.
Rapistan automatic warehouse equipment made by tufacturers Equipment Co. Ltd. and shown on Stand .13 ides live storage, with electronically controlled feed-in, -out of goods, coupled with an operational circuit of rials handling equipment, and Gascoignes (Kee Clamps) on Stand H10 show a new type of storage racking that be roofed over.
n admirable range of Pohlscroeder tool storage cabinets .hibited for the first time by POIstore (Materials Handling) on Stand T11. Linvar Ltd. on Stand Q4, show a new cable container called Stilibin, which can be readily ed by fork-lift truck, and a range of Tiltrack storage s, adjustable to compartments of any size is shown for first time by Bertram Thomas (Engineers) Ltd. on d D5.
ew from Simon-Barron Ltd., on Stand H9 is a display C-Stok, a quick delivery screw conveyor service not presly shown in the UK, and a new system of modular age is featured by Randalrak Ltd.. (Stand Al). An nious system of pneumatic mobile racking, utilizing an h.p. electric motor and a compressor unit is shown on id S7 by Bruynzeel Wood Products Co. Ltd.
oltless Systems on Stand R6 illustrate the adaptability of r simply erected and robust racking. Constructors Ltd. on id W6 display Adjusteel shelving equipment and another riple of boltless pallet racking, whilst on Stand C6, al Products (Arden) Ltd. show coil handling, box and ipsible pallets.
farehousemen particularly will see much of interest at Is Court but road hauliers, too, to an increasing extent, advantage of mobile conveyors. Bagshawe and Co. Ltd., Stand F6, feature a working model of a new tilt tray ing conveyor now made in the UK under, licence from Us.
trafford Auk) Flow Systems Ltd. on Stand A3 demonic a new range of conveyor and live storage equipment ch incorporates a device to identify and sort various Is. An Order Speeder device in conjunction with an anced type of storage system is shown on Stand E8 by ;pa Engineering Co. Ltd., and the new kotorail single overhead conveyor, using the motive power of a screw, Vlarshall Conveyors Ltd, is featured on Stand H2.
new fully automatic overhead conveyor system, with ehousing applications, developed by the Swedish Ohrnell ipany is demonstrated on Stand Ela by Bruntwiek and Ltd. and an advanced handling system suitable for a wide ge Of materials is the "electro-rail" equipment made by irrold Ltd., and shown on Stand X2. A driverless Youngman-EMI Robotug, hauling several trailers and guided by a magnetic field flowing in a buried under-floor wire is featured by W. C. Youngman Ltd., on Stand .15. A wide range of dock levellers, scissors lifts, and a new range of Europa light-weight belt conveyors is shown by G. Hunter (London) Ltd., on Stand H14, and the Serco spring loaded dock ramp, with capacity from 10,000 lb. to 25,000 lb., made under licence by John Wallace (Mechanical Handling) Ltd., is shown on Stand V9.
Powell and Co. introduce on Stand A4 the Trog range of goods and parcels-carrying trolleys, and the Sprog electric scooter. An ingenious pneumatic-powered portable bag-stitching machine, for sealing many types of container, is shown by Thames Packaging Equipment Co. on Stand PI, and on Stand P4a Magnetic Handles (EET) Ltd., show a range of their permanent magnetic handles and a new type of magnetic welding fixture.
Two new Roots-type blowers developed by Sir George Godfrey and Partners (Industrial) Ltd. are to be seen on Stand S2, and R. S. Stokvis and Sons Ltd. exhibit a motorized wheelbarrow on Stand X14, whilst Marlow Ropes Ltd. show a selection of new sling materials and samples of polypropylene rope on Stand VI.
Precision chains and accessories for mechanical handling and power transmission are featured by Remold Chains Ltd. (Stand T20) and Tirfor Ltd., on Stand B4 demonstrate their manually operated lifting and pulling machines. On stand 09, Mercury Truck and Tractor Co. Ltd. show their redesigned range of industrial trucks and tractors, and the Perkins Group show a selection of industrial diesel engines suitable for installation in handling equipment on Stand T18.
Gloster Saro Ltd. on Stand C2 show units from the Rolamat lightweight conveyor system, and a 2,000-gal. glassreinforced-plastics demountable tank; and stable companions in the Hawker Siddeley group, Brush Electrical Engineering Co. Ltd., show a range of battery-electric vehicles on Stand C3. A full range of castors made by Revvo Castor Co. Ltd., is featured on Stand V3, and Lucas Industrial Equipment Ltd., on Stand W8, introduce a range of Hydrostatic vehicle transmissions, and hydraulic motors and pumps.