RTITB scale-down
13th March 1982
Page 4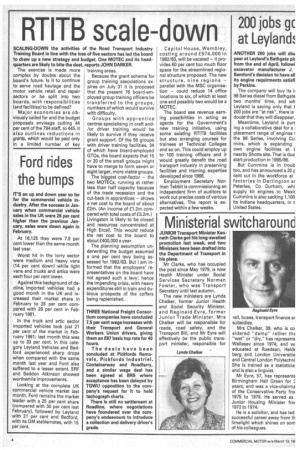 Page 4, 13th March 1982 —
RTITB scale-down
Close
SCALING-DOWN the activities of the Road Transport Industry Training Board in line with the loss of five sectors has led the board to draw up a new strategy and budget. One MOTEC and its headquarters are likely to bite the dust, reports JOHN DARKER.
The exercise is made more complex by doubts about the board's future. Is it to continue to serve road haulage and the motor vehicle retail and repair sectors or be split into two boards, with responsibilities (and facilities) to be defined?
Major economies are obviously called for and the budget proposals envisage cutting 44 per cent of the 794 staff, to 445. It also outlines reductions in grants, which would be paid only in a limited number of key training areas.
Because the grant scheme for group training associations expires on July 31 it is proposed that the present 76 board-employed group training officers be transferred to the groups, numbers of which would survive with difficulty.
Groups with apprentice centres specialising in craft and/or driver training would be likely to survive if they receive grant support. Of the 56 groups with driver training facilities, 34 of which have board-employed GT0s, the board expects that 15 or 20 of the small groups might have to merge to form seven or eight larger, more viable groups.
The biggest cost-factor — the two MOTECs, running at rather less than half capacity because of the trade recession and the cut-back in apprentices — shows a net cost to the board of about £2m. (An income of £1.2m compared with total costs of £3.2m.) Livingston is likely to be closed and resources concentrated at High Ercall. This would reduce the net cost to the board to about £400,000 a year.
The planning assumption underwriting the budget assumed a one per cent levy being assessed for 1982/83. But I am informed that the employers' representatives on the board have not agreed such a levy; hence the impending crisis, with heavy expenditures still in train and dubious prospects of the coffers being replenished. Capitol House, Wembley, costing around £574,000 in 1982/83, will be vacated — it provides 60 per cent too much floor space for the streamlined regional structure proposed. The new structure, nine regions — parallel with the MSC organisation — could reduce 14 office locations to six, of which at least one and possibly two would be a MOTEC.
The board see revenue earning possibilities in acting as agents for the Government's new training initiative, using some existing RTITB facilities but also arranging courses for trainees at Technical Colleges and so on. This could employ up to 100 training officers and it would greatly benefit the road transport industry in preserving facilities and training expertise developed since 1966.
Employment Secretary Norman Tebbit is commissioning an independent firm of auditors to work out precise costs of various alternatives, The report is expected within a few weeks.
Ministerial switcharound
JUNIOR Transport Minister Kenneth Clarke got his long-awaited promotion last week, and two Ministers have been drafted into the Department of Transport in his place.
Mr Clarke, who has occupied the post since May 1979, is now Health Minister under Social Services Secretary Norman Fowler, who was Transport Secretary until last autumn.
The new ministers are Lynda Chalker, former Junior Health and Social Security Minister, and Reginald Eyre, former Junior Trade Minister. Mrs Chalker will be responsible for roads, road safety, and the Transport Bill, and Mr Eyre will effectively be the public transport minister, responsible for rail, buses, transport finance ar subsidies.
Mrs Chalker, 39, who is co sidered "damp" rather thE "wet" or "dry," has represent( Wallasey since 1974, and wi educated at Roedean, HeidE berg and London Universitie and Central London Polytechni She is trained as a statisticia and is also a linguist.
Mr Eyre, 57, has representE Birmingham Hall Green for years, and was a vice-chairma of the Conservative Party froi 1975 to 1979. He served as Junior Housing Minister froi 1972 to 1974.
He is a solicitor, and has led successful career away from tf limelight which shines on som of his colleagues.