Use us says Freddie
13th March 1982
Page 3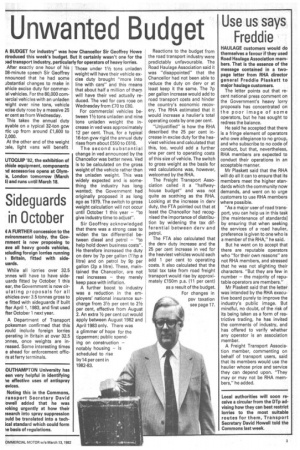 Page 3, 13th March 1982 —
Use us says Freddie
Close
HAULAGE customers would do themselves a favour if they used Road Haulage Association members. That is the essence of the message contained in a twopage letter from RHA director general Freddie Plaskett to major haulage customers.
The letter points out that recent national press comment on the Government's heavy lorry proposals has concentrated on the poor image of some operators, but he has sought to redress the balance.
He said he accepted that there is a fringe element of operators who owe allegiance to no group, and who subscribe to no code of conduct, but that, nevertheless, RHA members are expected to conduct their operations in an acceptable manner.
Mr Plaskett said that the RHA will do all it can to ensure that its members meet the higher standards which the community now demands, and went on to urge customers to use RHA members where possible.
"As a major user of road transport, you can help us in this task [the maintenance of standards] by ensuring that when seeking the services of a road haulier, preference is given to one who is a member of the RHA," he said.
But he went on to accept that there are reputable operators who "for their own reasons" are not RHA members, and stressed that he was not slighting their characters. "But they are few in number — the majority of reputable operators are members."
Mr Plaskett said that the letter was intended by the RHA executive board purely to improve the industry's public image. But mindful, no doubt, of the risk of its being taken as a form of restrictive trading, he has invited the comments of industry, and has offered to verify whether any operator is an association member.
A Freight Transport Association member, commenting on behalf of transport users, said that its members would use the haulier whose price and service they can depend upon. "They may or may not be RHA members," he added.