Bedford extends range — 26 in UK
13th March 1982
Page 14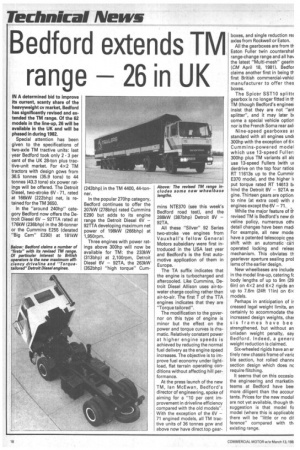 Page 14, 13th March 1982 —
Bedford extends range — 26 in UK
Close
IN A determined bid to improve its current, scanty share of the heavyweight cv market, Bedford has significantly revised and extended the TM range. Of the 62 models in the line-up, 26 will be available in the UK and will be phased in during 1982.
Special attention has been given to the specifications of two-axle TM tractive units: last year Bedford took only 2 3 per cent of the UK 28-ton plus tractive-unit market. For 4x2 TM tractors with design gcws from 36.5 tonnes (35.9 tons) to 44 tonnes (43.3 tons) six power ratings will be offered. The Detroit Diesel, two-stroke 6V -71, rated at 166kW (222bhp) net, is retained for the TM 3650.
In the "around 240hp" category Bedford now offers the Detroit Diesel 6V — 92TTA rated at 176kW (236bhp) in the 36-tonner or the Cummins E255 (derated "Big Cam" E290) at 181kW (243bhp) in the TM 4400, 44-tonner.
In the popular 270hp category, Bedford continues to offer the 207kW (278bhp) rated Cummins E290 but adds to its engine range the Detroit Diesel 6V — 92TTA developing maximum net power of 198kW (266bhp) at 1,95Orpm.
Three engines with power ratings above 300hp will now be available for TM: the 233kW (313bhp) at 2,100rpm, Detroit Diesel 6V — 92TA, the 263kW (352bhp) "high torque" Cum mins NTE370 (see this week's Bedford road test), and the 288kW (387bhp) Detroit 8V — 92TA.
All these "Silver" 92 Series two-stroke vee engines from Vauxhall's fellow General Motors subsidiary were first introduced in the USA last year and Bedford's is the first automotive application of them in Europe.
The TA suffix indicates that the engine is turbocharged and aftercooled. Like Cummins, Detroit Diesel Allison uses air-towater charge cooling rather than air-to-air. The first T of the TTA engines indicates that they are "Torque tailored", The modification to the governor on this type of engine is minor but the effect on the power and torque curves is dramatic. Relatively constant power at higher engine speeds is achieved by reducing the normal fuel delivery as the engine speed increases. The objective is to improve fuel economy under lightload, flat terrain operating conditions without affecting hill performance.
At the press launch of the new TM, Ian McEwan, Bedford's director of engineering, spoke of aiming for a "10 per cent improvement in driveline efficiency compared with the old models". With the exception of the 6V — 71 engined models, all TM tractive units of 36 tonnes gcw and above now have direct top gear boxes, and single reduction rer axles from Rockwell or Eaton.
All the gearboxes are from th Eaton Fuller twin countershai range-change range and all hay the latest "Multi-mesh" gearin (CM April 18, 1981). Bedfor claims another first in being th first British commercial-vehic manufacturer to offer thes boxes.
The Spicer SST10 splitt( gearbox is no longer fitted in th TM (though Bedford's engineei insist that they are not "ani splitter", and it may later bl come a special vehicle optior nor is the French Soma rear ax[ Nine-speed gearboxes ar standard with all engines undi 300hp with the exception of 6x Cummins-powered model which use 13-speed Fuller 300hp plus TM variants all alE use 13-speed Fullers (with ui derdrive on the top four ratios RT 11613s up to the Cummir E370 Model, and the higher ii put torque rated RT 14613 bi hind the Detroit 8V 92TA ei gine. Thirteen gears are option to nine (at extra cost) with E engines except the 6V — 71 While the major feature of th revised TM is Bedford's new dr veline policy, numerous othr detail changes have been mad For example, all new mode have a patented telescopic one shift with an automatic can operated locking and releaE mechanism. This obviates th gearlever aperture sealing prol lems of the earlier design.
New wheelbases are include in the model line-up, catering fc body lengths of up to 9m (29 6in) on 4x2 and 6x2 rigids an up to 7.6m (24ft tlin) on 6x models.
Perhaps in anticipation of ir creased legal weight limits, an certainly to accommodate the increased design weights, char sis frames have bee strengthened, but without an unladen weight penalty, say Bedford. Indeed, a generE weight reduction is claimed.
Six-wheeled rigids have an er tirely new chassis frame of variz ble section, hot rolled chann( section design which does nc require flitching.
It seems that on this occasio the engineering and marketinl teams at Bedford have bee more diligent than the accour tants. Prices for the new modal are not yet available, though th suggestion is that model fa model (where this is applicablE there will be "little or no dil ference" compared with th existing range.