Key decision for LT: appeal dismissed
13th March 1982
Page 13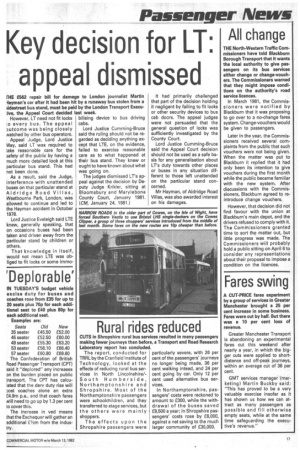 Page 13, 13th March 1982 —
Key decision for LT: appeal dismissed
Close
rHE £562 repair bill for damage to London journalist Martin -layman's car after it had been hit by a runaway bus stolen from a iidestreet bus stand, must be paid by the London Transport Execu tive, the Appeal Court decided However, LT need not fit locks :o every bus. The appeal ultcome was being closely watched by other bus operators.
Appeal Judge, Lord Justice May, said LT was required to take reasonable care for the safety of the public by having a much more detailed look at this particular bus stand. This had not been done.
As a result, said the Judge, interference with unattended buses on that particular stand at Aldridge Road Villas, Westbourne Park, London, was allowed to continue and led to the Hayman accident in October 1978.
Lord Justice Eveleigh said LTE knew, generally speaking, that on occasions buses had been taken and driven away from the particular stand by children or others.
That knowledge in itself, would not mean LTE was obliged to fit locks or some immo last week.
bilising device to bus driving cabs.
Lord Justice Cumming-Bruce said the ruling should not be regarded as deciding anything except that LTE, on the evidence, failed to exercise reasonable care as to what happened at their bus stand. They knew or ought to have known about what was going on.
The judges dismissed LT's appeal against the decision by Deputy Judge Krikler, sitting at Bloomsbury and Marylebone County Court, January 1981. (CM, January 24, 1981.) It had primarily challenged that part of the decision holding it negligent by failing to fit locks or other security devices to bus cab doors. The appeal judges were not persuaded that the general question of locks was sufficiently investigated by the County Court.
Lord Justice Cumming-Bruce said the Appeal Court decision should not be used as a safe basis for any generalisation about LT's duty towards other places or buses in any situation different to those left unattended on the particular stand concerned, Mr Hayman, of Aldridge Road Villas, was also awarded interest on his damages.