the costing column
13th March 1970
Page 51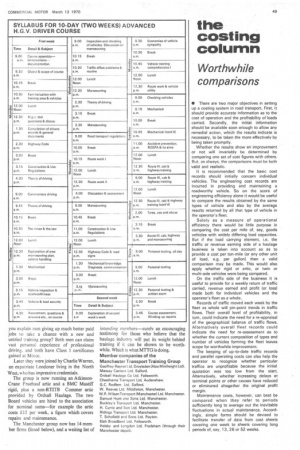 Page 51, 13th March 1970 —
the costing column
Close
Worthwhile comparisons
• There are two major objectives in setting up a costing system in road transport. First, it should provide accurate information as to the cost of operation and the profitability of loads carried. Secondly, the initial information should be available soon enough to allow any remedial action, which the results indicate is necessary, to be taken the more effectively by being taken promptly.
Whether the results show an improvement or not will invariably be determined by comparing one set of cost figures with others. But, as always, the comparisons must be both valid and realistic.
It is recommended that the basic cost records should initially concern individual vehicles. The engineering cost records are incurred in providing and maintaining a roadworthy vehicle. So on the score of engineering efficiency alone it would be useful to compare the results obtained by the same types of vehicle and also by the average results returned by all that type of vehicle in the operator's fleet.
Solely as a measure of operational efficiency there would be little purpose in comparing the cost per mile of, say, goods vehicles with widely differing load capacities. But if the load carrying element, i.e. the traffic or revenue earning side of a haulage business is taken into account so as to provide a cost per ton-mile (or any other unit of load, e.g. per gallon) then a valid comparison may be made. This would also apply whether rigid or artic, or twin or multi-axle vehicles were being compared.
On the traffic side of the business it is useful to provide for a weekly return of traffic carried, revenue earned and profit (or loss) made both for individual vehicles and the operator's fleet as a whole.
Records of traffic moved each week by the fleet as whole will pin-point trends in traffic flows. Their overall level of profitability, in turn, could indicate the need for a re-appraisal of the geographical balance of traffic flows. Alternatively overall fleet records could indicate the need for re-assessment as to whether the current composition of types and number of vehicles forming the fleet leaves scope for worthwhile improvement.
The keeping of up-to-date traffic records and parallel operating costs can also help the operator to recognize whether particular traffics are unprofitable because the initial quotation was too low from the start. Alternatively, whether increasing delays at terminal points or other causes have reduced or eliminated altogether the original profit margin.
Maintenance costs, however, can best be compared when they refer to periods sufficiently long to average out the inevitable fluctuations in actual maintenance. Accordingly, simple forms should be devised to facilitate transfer of data from cost sheets covering one week to sheets covering long periods of, say, 13, 26 or 52 weeks.