Going 'foreign'
13th March 1970
Page 44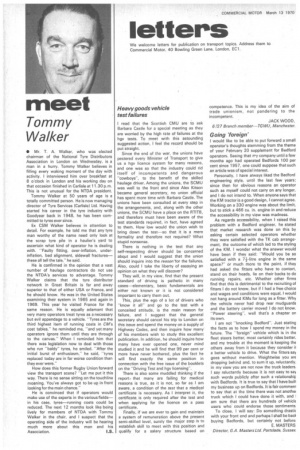 Page 44, 13th March 1970 —
Going 'foreign'
Close
I would like to be able to put forward a small operator's thoughts stemming from the theme of your February 20 supplement for Bedford operators. Seeing that my company until a few months ago had operated Bedfords 100 per cent since 1957, one could suppose that such an article was of special interest.
Personally, I have always liked the Bedford engineering style, until the last few years; since then for obvious reasons an operator such as myself could not carry on any longer, and I do not intend to. When anyone says that the KM tractor is a good design. I cannot agree. Working on a 330 engine was about th.e limit. but to stick a 466 Cu. in. engine in and reduce the accessibility in my view was madness.
As regards accessibility, when I raised this problem with a Bedford engineer, he stated that market research was done on this by asking certain selected operators whether they were satisfied with the TK cab arrangement, the outcome of which led to the styling of the KM. I wonder what the answer would have been if they said: "Would you be so satisfied with a 7-1--litre engine in the same space?" Or much more to the point, if they had asked the fitters who have to contort, stand on their heads, lie on their backs to do running repairs, etc. Whether other firms find that this is detrimental to the recruiting oi fitters I do not know, but if I had a free choice and wages and conditions were equal, I would not hang around KMs for long as a fitter. Why the vehicle never had drop rear mudguards and the battery carrier moved I do not know. "Power steering", well that's a chapter on its own.
I am not "knocking Bedford". Just stating the facts as to how I spend my money in the future. The "foreign" vehicle which is in the fleet steers better, most certainly rides better, and my trouble at the moment is keeping the others away from it because they consider ir a better vehicle to drive. What the fitters say goes without mention. Weightwise you are dropping behind and, to sum it up, reluctantly, in my view you are not now the truck leaders. I say reluctantly because it is not easy to say such words publicly after such a relationship with Bedfords. It is true to say that I have built my business up on Bedfords. It is fair comment to say that at the time there was not anothei truck which I could have done it with. and I am sure that there are hundreds of vehicle users who could endorse those sentiments To close, I will say: Do something. drastic with your front end and perhaps I shall be bacl. buying Bedfords, but certainly not before E. MASTERS Director, G.A. Masters Ltd. Portslade, Sussex