On Safari with Timpson, but not Cliff's
13th March 1970
Page 39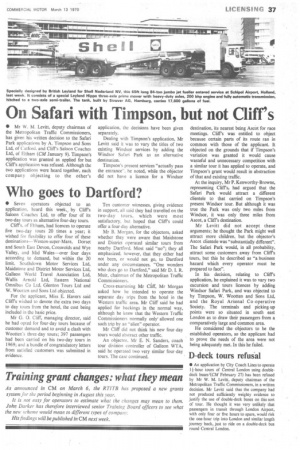 Page 39, 13th March 1970 —
On Safari with Timpson, but not Cliff's
Close
• Mr W. M. Levitt, deputy chairman of the Metropolitan Traffic Commissioners, has given his written decision to the Safari Park applications by A. Timpson and Sons Ltd, of Catford. and Cliff's Saloon Coaches Ltd, of Eltham (CM January 9). Timpson's application was granted as applied for but Cliff's application was refused. Although the two applications were heard together, each company objecting to the other's application, the decisions have been given separately.
Dealing with Timpson's application, Mr Levitt said it was to vary the titles of two existing Windsor services by adding the Windsor Safari Park as an alternative destination.
Timpson's present services "actually pass the entrance", he noted, while the objector did not have a licence for a Windsor destination, its nearest being Ascot for race meetings. Cliff's was entitled to object because certain parts of its route ran in common with those of the applicant. It objected on the grounds that if Timpson's variation was granted it would cause wasteful and unnecessary competition with a similar tour it has applied to operate, and Timpson's grant would result in abstraction of that and existing traffic.
At the inquiry, Mr P. Kenworthy-Browne, representing Cliff's, had argued that the Safari Park would attract a different clientele to that carried on Timpson's present Windsor tour. But although it was true the Park was only two miles from Windsor, it was only three miles from Ascot, a Cliff's destination.
Mr Levitt did not accept these arguments; he thought the Park might well attract more children, but the objector's Ascot clientele was "substantially different". The Safari Park would, in all probability, attract some customers. away from Cliff's tours, but this he described as "a business hazard which every operator must be prepared to face".
In his decision, relating to Cliff's application, he explained it was to vary two excursion and tours licences by adding Windsor Safari Park, and was objected to by Timpson, W. Wootten and Sons Ltd, and the Royal Arsenal Co-operative Society. The terminals and picking-up points were so situated in south east London as to draw their passengers from a comparatively large and common area.
He considered the objectors to be the established operators, so the applicant had to prove the needs of the area were not being adequately met. In this he failed.
D-deck tours refusal
• An application by City Coach Lines to operate 14-hour tours of Central London using doubledeck buses '(CM February 27) has been refused by Mr W. M. Levitt, deputy chairman of the Metropolitan Traffic Commissioners, in a written decision. Mr Levitt said that the company had not produced sufficiently weighty evidence to justify the use of double-deck buses on this sort of tour. He thought it was very unlikely that passengers in transit through London Airport, with only four or five hours to spare, would risk the one-hour trip into London and similar length journey back, just to ride on a double-deck bus round Central London.