Environment and Europe —dominant factors
13th March 1970
Page 30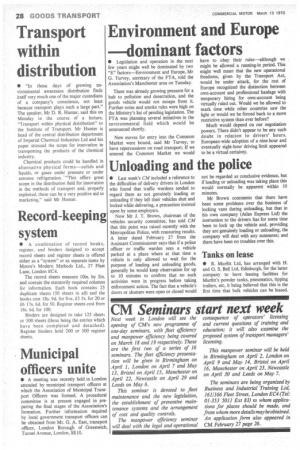 Page 30, 13th March 1970 —
Environment and Europe —dominant factors
Close
Keywords :
• Legislation and operation in the next few years might well be dominated by two "E" factors—Environment and Europe, Mr G. Turvey, secretary of the FTA, told the Association's Manchester area on Tuesday.
There was already growing pressure for a halt to pollution and desecration, and the goods vehicle would not escape from it. Further noise and smoke rules were high on the Ministry's list of pending legislation. The FTA was planning several initiatives in the environmental field which would be announced shortly.
New moves for entry into the Common Market were bound, said Mr Turvey, to have repercussions on road transport. If we entered the Common Market we would have to obey their rules—although we might be allowed a running-in period. This might well mean that the new operational freedoms, given by the Transport Act, would be under attack, for the rest of Europe recognized the distinction between own-account and professional haulage with temporary hiring for own-account being virtually ruled out. Would we be allowed to mark time while other countries saw the light or would we be forced back to a more restrictive system than ever before?
Much would depend on our negotiation powers. There didn't appear to be any such doubt in relation to drivers' hours. European-wide adoption of a nine-hour and eventually eight-hour driving limit appeared to be a virtual certainty.