ONE HEARS
13th June 1918
Page 3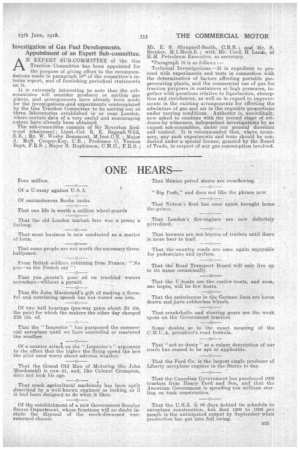 Page 3, 13th June 1918 —
ONE HEARS
Close
Four million.
Of a U-essay against U.S.,A.
Of cantankerous Beebe tanks.
That one life is worth a million wheel-guards That the old London taxicab fare was a penny a furlong.
That most business is now conducted as a matter of form.
That some people are not worth the necessary threehalfpence.
From British soldiers returning from France : " Na p00—a-s the French say" That you *mustn't pour oil on troubled waters nowadays—without a permit.
That Sir John -Macdonald's gift of making a forceful and convincing speed] has not waned one iota.
Of two ball bearings (pre-war price about £8 10s, the pair) for which the makers the other day charged £39 13s. 4d.
That the "Inspector " has postponed the commercial aeroplane until we have controlled or mastered the weather.
Of a counter attaet on the " Inspector's " argument to the effect that the higher the flying speed the less the pilot need worry about adverse weather.
That the Grand Old Man of Motoring (Sir John Macdonald) is now 81, and, like Colonel Crompton, does not look his age. • That much _agricultural machinery has been aptly described by a well-known engineer as looking as if it had been designed to do what it likes.
Of the establishment of a new Government Surplus Stores Department, whose functions will no doubt include the disposal of the much-discussed warreturned chassis. That Mekico petrol stores are overflowing. "Big Push," and does not like the phrase now.
That Nelson's fleet has once again brought home the prizes.
That London's, fire-engines are now definitely petrolized.
That brewers are not buyers of trailers until there is more beer to trail.
That the .country roads are once again enjoyable for pedestrians and cyclists.
That the Road Transport Board will only live up to its name occasionally.
That the U-boats are the curfew-boats, and soon, one hopes, will be few boats.
That the -ambulances in the German lines are horse drawn and have rubberless -wheels.
That. crankshafts and steering gears are the weak spots on the Government tractors.
Some doubts as to the exact meaning of the C.M. C.A. president's road forMula.
That "not so dusty" as a vulgar description of our roads has ceased to be apt or applicable.
That the Ford Co. is the largest single producer of Liberty aeroplane engines in the States to-day.
That the Canadian Government has purchased 1000 tractors from Henry Ford and Son, and that the American Government is spending ten millions ster:. ling on tank conetruction.
That the U.S.A. 00 days-behind its echedule in aeroplane construction, but that 1200 to 1500 per month is the anticipated output by September when production h•as got into lull swing.