OPINIONS FROM OTHERS.
13th January 1925
Page 26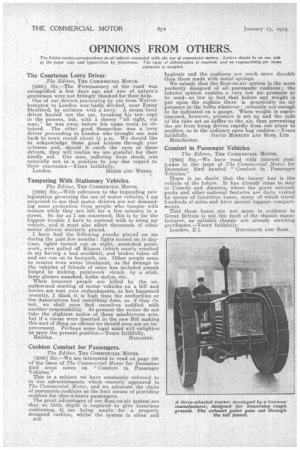 Page 26, 13th January 1925 —
OPINIONS FROM OTHERS.
Close
The Editor invites corresPondence on all subjects connected with the use of commercial motors. Lettel s should be on one side of the paper only and typewritten by preference. The right of abbreviation is reserved, and no responsibility for views ixpressed is accepted.
The Courteous Lorry Driver.
The Editor, THE COMMERCIAL MoToR,
[2301] Sir,—The Freemasonry of the road was exemplified a few days ago and two of nature's gentlemen were not fittingly thanked for their help.
One of our drivers journeying by car from Wolverhampton to London was`badly ditched, near Fenny Stratford, by collision with a lorry. A steam lorry driver hauled out the ear, breaking his tow rope in the process, but, with a cheery "all right, old man," he was away before his name could he obtained. The other good Samaritan was a lorry driver proceeding to London who brought our man back to town round about 11 p.m. We should like to acknowledge these good actions through your columns and, should it catch the eyes of these drivers, they will realize we are grateful for' their kindly aid. Our man, suffering from shock, was naturally not in a position to pay due regard to their courtesies.—Yours faithfully,
London. IVIEBES AND MEHES.
Tampering With Stationary Vehicles.
The Editor, THE COMMERCIAL MOTOR,
[2302] Sir,—With reference to the impending new legislation governing the use of motor vehicles, I am surprised to see that motor drivers are not demanding some protection from people who tamper with motors while they are left for a few rninutes in a street. So far as I am concerned, this is by far the biggest trouble I have to contend with in using my vehicle, and it must also affect thousands of other motor drivers similarly placed. I have had the following pranks played on me during the past few months : lights turned on in daytime, lights turned out at night, scratched paintwork, wire pulled off Klaxon (which nearly resulted in my having a bad accident), and brakes taken off and car run on to footpath, etc. Other people seem to receive even worse treatment, as the damage to the vehicles of friends of mine has included panels bulged by kicking, paintwork struck by a stick, lamp glasses smashed, bulbs stolen, etc.
When innocent people are killed by the unauthorized starting of motor vehicles on a hill and lorries are sent over embankments, as has happened recently, I think it is high time the authorities or theAssociations had something done, as if they do not, we shall soon find ourselves saddled with another responsibility. At present the police do not take the slightest notice of these mischievous acts, but if a clause were inserted in the new Bill making this sort of thing an offence we should soon see an improvement. Perhaps some legal mind will enlighten us upon the present position.--Yours faithfully, Halifax. HARASSED.
Cushion Comfort for Passengers.
The Editor, THE COMMERCIAL MOTOR.
[2303] Sir,—We are interested to read on page 558 of the issue of The Commercial Motor for December 23rd some notes on. " Comfort in Passenger
ehicles."
This is a subject we have constantly referred to in our advertisements which recently appeared in The Commercial Motor, and we advocate the claim of pneumatic cushions as the best means of providing comfort for char-h-bancs passengers.
The great advantages of our float-on-air System are that so little depth is required to give luxurious cushioning, 41 ins, being ample for a properly designed cushion, whilst the system is clean and B42 hygienic and the cushions are much more durable than those made with metal springs.
We submit that the fit:tat-on-air system is the most perfectly designed of all pneumatic cushions ; the tubular system enables a very low air pressure to be used—so low in fact that before any weight is put upon the cushion there is practically no air pressure in the tubes whatever ; certainly not enough to be indicated on a gauge. When weight is superimposed, however, pressure is set up and the coils of the tube act-as baffles to the air, thus preventing the air from being driven rapidly from one place to another, as in the ordinary open bag cushion.—Yours
faithfully, DAVID MOSELEY AND SONS, LTD. Manchester.
Comfort in Passenger Vehicles.
Time Editor, THE COMMERCIAL MOTOR.
[2304] Sir —We have read with interest your leader in the issue of The Commercial Motor for .December 23rd headed "Comfort in Passenger Vehicles."
There is no doubt that the luxury bus is the vehicle of the future. It has alreadY come to stay io Canada and America' Where the great national yolks and other national features are daily visited by scores of luxurious buses, many of which travel hundreds of miles and have special luggage comport
ents, .
That these buses are not more in evidence in Great Britain is not the fault of the chassis manufacturer, as suitable chassis are already awaiting purchasers.—Yours faithfully,
London, E.1. BONALLACK AND SONS.