RESULT OF A BUS APPEAL TO THE M. OF T.
13th January 1925
Page 23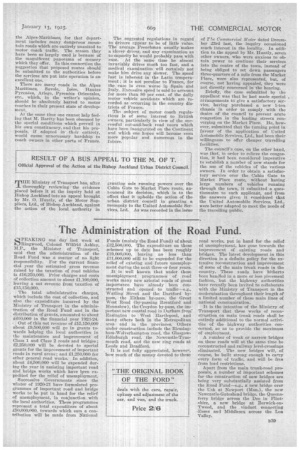 Page 23, 13th January 1925 —
RESULT OF A BUS APPEAL TO THE M. OF T.
Close
Official Approval of the Action of the Bishop Auckland Urban District Council.
TE Ministry of Transport has, after thoroughly reviewing the evidence placed before it at the inquiry held at Bishop Auckland into an appeal brought by Mr. 0. Huntly, of the Motor Suppliers, Ltd., of Bishop Auckland, against the action of the local authority in
granting sole running powers over the Cabin Gate to Market Place route, announced its decision, which is to the effect that it upholds the action of the urban district council in granting a monopoly to the United Automobile Services, Ltd. As was recorded in the issue
of ne Commercial :Motor dated December 23rd last, the inquiry occasioned much interest in the locality. In addition to the appeal by Mr. Huntly, seven other owners, who were anxious to obtain power to continue their services into the centre of the town, instead of being obliged to set down passengers three-quarters of a mile from the Market Place, were also represented, but, of course, not having appealed, they were not directly concerned in the hearing.
Briefly, the case submitted by the appellant was that he had made special arrangements to give a satisfactory service, having purchased a new 1-ton chassis in order to comply with the desire of the council to prevent acute congestion in the leading streets converging on the Market Place. He, however, submitted that the turning point in favour of the application of United Automobile Services. Ltd., had been their willingness to offer cheaper travelling facilities.
The council's case, on the other hand, was that, in order to relieve the congestion, it had been considered imperative to establish a number of new stands for the use of the vehicles of the various owners. In order to obtain a satisfactory service over the Cabin Gate to Market Place route, without having large numbers of vehicles running through the town, it submitted a questionnaire to each applicant, and from the answers given it considered that the United Automobile Services, Ltd., were better adapted to meet the needs of the travelling public.