AMSTERDAM 1970
13th February 1970
Page 47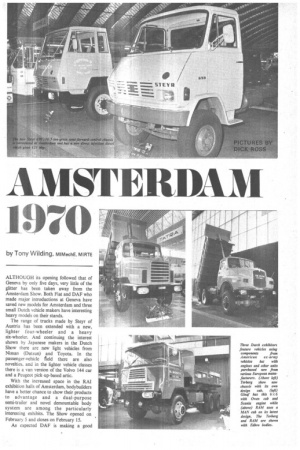 Page 48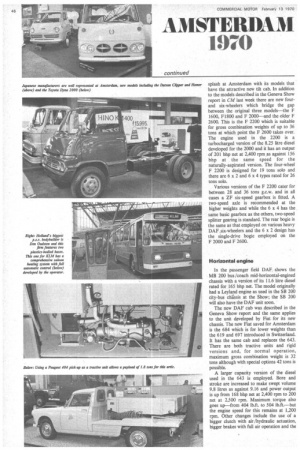 Page 49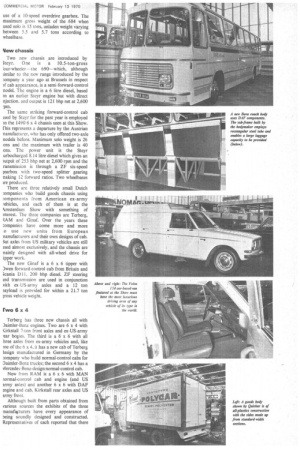 Page 50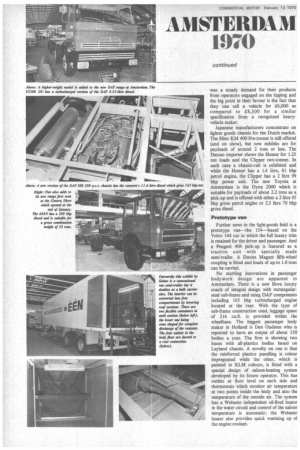 Page 47, 13th February 1970 —
AMSTERDAM 1970
Close
by Tony Wilding, IVIIMechE, MIFITE
ALTHOUGH its opening followed that of Geneva by only five days, very little of the glitter has been taken away from the Amsterdam Show. Both Fiat and DAF who made major introductions at Geneva have saved new models for Amsterdam and three small Dutch vehicle makers have interesting heavy models on their stands.
The range of trucks made by Steyr of Austria has been extended with a new, lighter four-wheeler and a heavy six-wheeler. And continuing the interest shown by Japanese makers in the Dutch Show there are new light vehicles from Nissan (Datson) and Toyota. In the passenger-vehicle field there are also novelties, and in the lighter vehicle classes there is a van version of the Volvo 144 car and a Peugeot pick-up-based artic.
With the increased space in the RAI exhibition halls of Amsterdam, bodybuilders have a better chance to show their products to advantage and a dual-purpose semi-trailer and novel demountable body system are among the particularly interesting exhibits. The Show opened on February 5 and closes on February 15.
As expected DAF is making a good splash at Amsterdam with its models that have the attractive new tilt cab. In addition to the models described in the Geneva Show report in CM last week there are new fourand six-wheelers which bridge the gap between the original three models—the F 1600, F1800 and F 2000—and the older F 2600. This is the F 2200 which is suitable for gross combination weights of up to 36 tons at which point the F 2600 takes over. The engine used in the 2200 is a turbocharged version of the 8.25 litre diesel developed for the 2000 and it has an output of 201 bhp net at 2,400 rpm as against 156 bhp at the same speed for the naturally-aspirated version. The four-wheel F 2200 is designed for 19 tons solo and there are 6 x 2 and 6 x 4 types rated for 26 tons solo.
Various versions of the F 2200 cater for between 28 and 36 tons g.c.w. and in all cases a ZF six-speed gearbox is fitted. A two-speed axle is recommended at the higher weights and while the 6 x 4 has the . same basic gearbox as the others, two-speed splitter gearing is standard. The rear bogie is the same as that employed on various heavy DAF.,six-wheelers and the 6 x 2 design has the single-drive bogie employed on the F 2000 and F 2600.
Horizontal engine In the passenger field DAF shows the MB 200 bus /coach mid-horizontal-engined chassis with a version of its 11.6 litre diesel rated for 165 bhp net. The model originally had a Leyland engine as used in the SB 200 city-bus chissis at the Show; the SB 200 will also have the'DAF unit soon.
The new DAF cab was described in the Geneva Show report and the same applies to the unit developed by Fiat for its new chassis. The new Fiat saved for Amsterdam is the 684 which is for lower weights than the 619 and 697 introduced in Switzerland. It has the same cab and replaces the 643. There are both tractive units and rigid versions and, for normal operation, maximum gross combination weight is 32 tons although with special options 42 tons is possible.
A larger capacity version of the diesel used in the 643 is employed. Bore and stroke are increased to make swept volume 9.8 litres as against 9.16 and power output is up from 168 bhp net at 2,400 rpm to 200 net at 2,500 rpm. Maximum torque also goes up—from 404 lb.ft..to 504 lb.ft.—but the engine speed for this remains at 1,200 rpm. Other changes include the use of a bigger clutch with air/hydraulic actuation, bigger brakes with full air operation and the use of a 10-speed overdrive gearbox. The maximum gross weight of the .684 when used solo is 15 tons, unladen weight varying between 5.5 and 5.7 tons according to wheelbase.
New chassis •
Two new chassis are introduced by iteyr. One is a 10,5-ton-gross 'our-wheeler—the 690—which, although thnilar to the new range introduced by the
..:ompany a year ago at Brussels in respect )f cab appearance, is a semi-forward-control
nodel. The engine is a 6 litre diesel, based m an earlier Steyr engine but with direct njection, and output is 121 bhp net at 2,600 pm.
The same striking forward-control cab Ised by Steyr for the past year is employed
)n the 1490 6 x 4 chassis seen at this Show. Fhis represents a departure by the Austrian nanufacturer, who has only offered two-axle nodels before. Maximum solo weight is 26
.ons and the maximum with trailer is 40 .ons. The power unit is the Steyr .urbocharged 8.14 litre diesel which gives an iutplit of 253 bhp net at 2,600 rpm and the ransmission is through a ZF six-speed gearbox with two-speed splitter gearing naking 12 forward ratios. Two wheelbases tre produced.
There are three relatively small Dutch ...ompanies who build goods chassis using .:omponents from American ex-army mhicles, and each of them is at the 4msterdam Show with something of
nterest. The three companies are Terberg, .AM and Ginaf. Over the years these .lornpanies have come more and more :o use new units from European nanufacturers and their own designs of cab. 3ut axles from US military vehicles are still ised almost exclusively, and the chassis are nainly designed with ail-wheel drive for ipper work.
The new Ginaf is a 6 x 6 tipper with Dwen forward-control cab from Britain and icania D11, 200 bhp diesel. ZF steering tnd transmission are used in conjunction with ex-US-army axles and a 12 ton myload is provided for within a 21.7 ton gross vehicle weight.
Iwo 6 x 4
Terberg has three new chassis all with Daimler-Benz engines. Two are 6 x 4 with

New from RAM is a 6 x 6 with MAN aormal-control cab and engine (and US army axles) and another 6 x 6 with DAF engine and cab. Kirkstall rear axles and US army front.

Although built from parts obtained from various sources the exhibits of the three manufapturers have every appearance of being soundly designed and constructed. Representatives of each reported that there was a steady demand for their products from operators engaged on site tipping and the big point in their favour is the fact that they can sell a vehicle for £6,000 as compared to £8,500 for a similar specification from a recognized heavyvehicle maker.

Japanese manufacturers concentrate on lighter goods chassis for the Dutch market. The Hino KM 400 fiVe-tonner is still offered (and on show), but new exhibits are for payloads of around 2 tons or less. The Datsun importer shows the Homer for 1.25 ton loads and the Clipper two-tonner. In each case a chassis-cab is exhibited and while the Homer has a 1.6 litre, 81 bhp petrol engine, the Clipper has a 2 litre 99 bhp power unit. The new Toyota at Amsterdam is the Dyna 2000 which is suitable for payloads of about 2.2 tons as a pick-up and is offered with either a 2 litre 95 bhp gross petrol engine or 2.5 litre 70 bhp gross diesel.

Prototype van Further news in the light-goods field is a prototype van—the 154—based on the Volvo 144 car in which the full luxury trim is retained for the driver and passenger. And a Peugeot 404 pick-up is featured as a tractive unit with specially made semi-trailer. A Davies Magnet fifth-wheel coupling is fitted and loads of up to 1.8 tons can be carried.

No startling innovations in passenger bodywork design are apparent in Amsterdam. There is a new Bova luxury coach of integral design with rectangularsteel sub-frame and using DAF components including 165 bhp turbocharged engine located at the rear. With the type of sub-frame construction used, luggage space of 216 cu.ft. is provided within the wheelbase. The biggest passenger body maker in Holland is Den Oudsten who is reported to have an output of about 150 bodies a year. The firm is showing two buses with all-plastics bodies based on Leyland chassis. A novelty on one is that the reinforced plastics panelling is colour impregnated while the other, which is painted in ICLM colours, is fitted with a special design of saloon-heating system developed by its future operator. This has outlets at floor level on eaCh side and thermostats which monitor air temperature at two points inside the body and also the temperature of the outside air. The system has a Webasto independent oil-fired heater in the water circuit and control of the saloon temperature is automatic; the Webasto heater also provides quick warming up of the engine coolant.