bird's eye view
13th February 1970
Page 46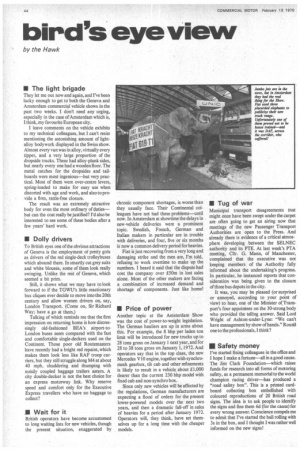 Page 46, 13th February 1970 —
bird's eye view
Close
by the Hawk • The light brigade
They let me out now and again, and I've been lucky enough to get to both the Geneva and Amsterdam commercial vehicle shows in the past two weeks. I don't need any urging, especially in the case of Amsterdam which is, I think, my favourite European city.
I leave comments on the vehicle exhibits to my technical colleagues, but I can't resist mentioning the astonishing amount of lightalloy bodywork displayed in the Swiss show. Almost every van was in alloy, virtually every tipper, and a very large proportion of the dropside trucks. These had alloy-plank sides, but nearly every one had a wooden floor. The metal catches for the dropsides and tailboards were most ingenious—but very practical. Most of them were over-centre levers, spring-loaded to make for easy use when distorted with age and work, and also to provide a firm, rattle-free closure.
The result was an extremely attractive body for even the most ordinary of duties— but can the cost really be justified? Pd also be interested to see some of these bodies after a few years' hard work.
• Dolly drivers
To British eyes one of the obvious attractions of Geneva is the employment of pretty girls as drivers of the red single-deck trolleybuses which abound there. In smartly cut grey suits and white blouses, some of them look really swinging. Unlike the rest of Geneva, which seemed a bit prim.
• Still, it shows what we may have to look forward to if the TGWU's little reactionary bus cliques ever decide to move into the 20th century and allow women drivers on, say, London Transport. (Come on, Sir Richard Way; have a go at them.) Talking of which reminds me that the first impression on returning home is how distressingly old-fashioned BEA's airport-toLondon buses seem compared with the fast and comfortable single-deckers used on the Continent. Those poor old Routema.sters have recently had a bright red repaint, which makes them look less like RAF troop carriers, but they still struggle along M4 at about 40 mph, shuddering and thumping with noisily coupled baggage trailers astern. A city double-decker is not the best choice for an express motorway link. Why reserve speed and comfort only for the Executive Express travellers who have no baggage to collect?
_• Wait for it
British operators have become accustomed to long waiting lists for new vehicles, though the present situation, exaggerated by chronic component shortages, is worse than they usually face. Their Continental colleagues have not had these problems—until now. In Amsterdam at showtime the delays in new-vehicle deliveries were a prominent topic. Swedish, French, German and Italian makers in particular are in trouble with deliveries, and four, five or six months is now a common delivery period for heavies.
Fiat is just recovering from a very long and damaging strike and the men are, I'm told, refusing to work overtime to make up the numbers. I heard it said that the dispute had cost the company over £50m in lost sales alone. Most of the other makers are facing a combination of increased demand and shortage of components. Just like home!
• Price of power
Another topic at the Amsterdam Show was the cost of power-to-weight legislation. The German hauliers are up in arms about this. For example, the 8 bhp per laden ton limit will be introduced for new trucks up to 28 tons gross on January 1 next year, and for 28 to 38 tons gross on January 1, 1972. And operators say that in the top class, the new Mercedes V10 engine, together with synchromesh gearbox, tilt cab and other refinements is likely to result in a vehicle, about £1,000 dearer than the current 230 bhp model with fixed cab and non-synchro box.
Since only new vehicles will be affected by the regulations, German manufacturers are expecting a flood of orders for the present lower-powered models over the next two years, and then a dramatic fall-off in sales of heavies for a period after January 1972. Operators will, they think, have set themselves up for a long time with the cheaper models.
• Tug of war
Municipal transport disagreements tnat might once have been swept under the carpet are often going to get an airing now that meetings of the new Passenger Transport Authorities are open to the Press. And already there is evidence of a critical atmosphere developing between the SELNEC authority and its PTE. At last week's PTA meeting, Cllr. G. Mann, of Manchester, complained that the executive was not keeping members of the Authority fully informed about the undertaking's progress. In particular, he instanced reports that consideration was being given to the closure of three bus depots in the city.
It was, you may be pleased (or surprised or annoyed, according to your point of . view) to hear, one of the Minister of Transport's four appointees on the 30-strong body who provided the telling answer. Said Lord Wright of Ashton-under-Lyne: "We can't have management by show of hands." Rona one to the professionals, I think?
• Safety money
I've started fining colleagues in the office and I hope I make a fortune—all in a good cause. The Jim Clark Foundation—which raises funds for research into all forms of motoring safety, as a permanent memorial to the world champion racing driver—has produced a "road safety box". This is a printed cardboard collecting box embellished with coloured reproductions of 20 British road signs. The idea is to ask people to identify the signs and fine them 6d (for the cause) for every wrong answer. Conscience compels me to admit that I've started the ball rolling with 3s in the box, and I thought I was rather well informed on the new signs!