RHA area chairman's 0 licence refused
13th February 1970
Page 35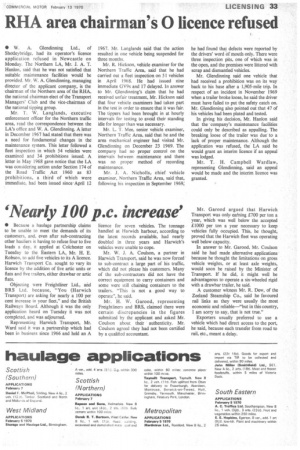 Page 35, 13th February 1970 —
RHA area chairman's 0 licence refused
Close
• W. A. Glendinning Ltd., of Shotleybridge, had its operator's licence application refused in Newcastle on Monday. The Northern LA, Mr. J. A. T. Hanlon, said that he was not satisfied that suitable maintenance facilities would be provided. Mr. W. A. Glendinning, managing director of the applicant company, is the chairman of the Northern area of the RHA, the national chairman-elect of the Transport Managers' Club and the vice-chairman of the national tipping group.
Mr. T. W. Langlands, executive enforcement officer for the Northern traffic area, read the correspondence between the LA's office and W. A. Glendinning. A letter in December 1967 haft stated that there was a need for fundamental changes in the maintenance system. This letter followed a fleet inspection in which 54 vehicles were examined and 34 prohibitions issued. A letter in May 1968 gave notice that the LA was considering action under Section 174 of the Road Traffic Act 1960 as 83 prohibitions, a third of which were immediate, had been issued since-April 12
1967. Mr. Langlands said that the action resulted in one vehicle being suspended for three months.
Mr. R. Hickson, vehicle examiner for the Northern Traffic Area, said that be had carried out a fleet inspection on 51 vehicles in April 1968. He had issued nine immediate GV9s and 17 delayed. In answer to Mr. Glendinning's claim that he had received unfair treatment, Mr. Hickson said that four vehicle examiners had taken part in the test in order to ensure that it was fair. The tippers had been brought in at hourly intervals for testing to avoid their standing idle for longer than was necessary.
Mr. L. T. Mee, senior vehicle examiner, Northern Traffic Area, said that he and the area mechanical engineer had visited Mr. Glendinning on December 23 1969. The company had no proper control on the intervals between maintenance and there was no proper method of recording maintenance.
Mr. .1. A. Nicholls, chief vehicle examiner, Northern Traffic Area, said that, following his inspection in September 1969; he had found that defects were reported by the drivers' word of mouth only. There were three inspection pits, one of which was in the open, and the premises were littered with scrap and dismantled vehicles.
Mr. Glendinning said one vehicle that had received a prohibition was on its way back to his base after a 1,905-mile trip. In respect of an incident in November 1969 when a trailer broke loose, he said the driver must have failed to put the safety catch on. Mr. Glendinning also pointed out that 47 of his vehicles had been plated and tested.
In giving his decision, Mr. Hanlon said that the company's maintenance facilities could only be described as appalling. The breaking loose of the trailer was due" to a lack of proper maintenance. Although the application was refused, the LA said he would grant an interim licence if an appeal was lodged.
Mr. T. H. Campbell Wardlaw, representing Glendinning, said an appeal would be made and the interim licence was granted.