'Nearly 100 p.c. increase'
13th February 1970
Page 35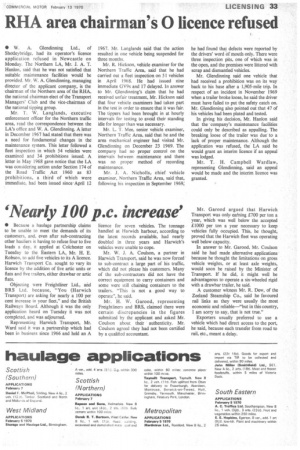 Page 35, 13th February 1970 —
'Nearly 100 p.c. increase'
Close
• Because a haulage partnership claims to be unable to meet the demands of its customers, and, even after sub-contracting other hauliers is having to refuse four to five loads a day, it applied at Colchester on Tuesday to the Eastern LA, Mr. H. E. Robson, to add five vehicles to its A licence. Harwich Transport Co. sought to vary its licence by the addition of five artie units or flats and five trailers, either drawbar or artic flats.
Objecting were Freightliner Ltd., and BRS Ltd. because, "You (Harwich Transport) are asking for nearly a 100 per cent increase in your fleet," and the British Railways Board. Although it was the only application heard on Tuesday it was not completed, and was adjourned.
Representing Harwich Transport, Mr. Ward said it was a partnership which had been in business since 1966 and held an A licence for seven vehicles. The tonnage handled at Harwich harbour, according to the latest records available, had nearly doubled in three years and Harwich's vehicles were unable to cope.
Mr. W. J. A. Coulson, a partner in Harwich Transport, said he was now forced to sub-contract a large part of his traffic, which did not please his customers. Many of the sub-contractors did not have the correct equipment to carry containers and some were still chaining containers to the trailers. "This is not a good way to operate", he said.
Mr. H. W. Garood, representing Freightliners and BRS, claimed there were certain discrepancies in the figures submitted by the applicant and asked Mr. Coulson about their authenticity. Mr. Coulson agreed they had not been certified by a qualified accountant. Mr. Garood argued that Harwich Transport was only eaining £700 per ton a year, which was well below the accepted £.1000 per ton a year necessary to keep vehicles fully occupied. This, he thought, proved that the Harwich fleet was operating well below capacity.
In answer to Mr. Garood, Mr. Coulson said he had made alternative applications ' because he thought the limitations on gross vehicle weights, or at least axle weights, would soon he raised by the Minister of Transport. If he did, it might well be advantageous to operate a six-wheeled rigid with a drawbar trailer, he said.
A customer witness Mr. R. Dew, of the Zeeland Steamship Co., said he favoured rail links as they were usually the most economic and reliable—"but in this country, I am sorry to say, that is not true."
Exporters usually preferred to use a vehicle which had direct access to the port, he said, because each transfer from road to rail, etc., meant a delay.