Bus sales rationalized
13th February 1970
Page 31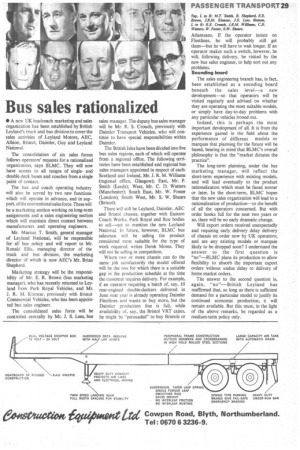 Page 31, 13th February 1970 —
Bus sales rationalized
Close
Keywords :
Buses
,
Land Transport
,
Transport
,
Road Transport
,
Double-decker Buses
,
British Leyland
,
Leyland Motors
,
Daimler Fleetline
,
Leyland National
,
Associated Equipment Company
,
Bristol Vr
,
Daimler Freeline
• A new UK bus/coach marketing and sales organization has been established by British Leyland's truck and bus division to cover the sales activities of Leyland Motors, AEC, Albion, Bristol, Daimler, Guy and Leyland National.
The consolidation of six sales forces follows operators' requests for a rationalized organization, says BLMC. They will now have access to all ranges of singleand double-deck buses and coaches from a single point of contact.
The bus and coach operating industry will also be served by two new functions which will operate in advance, and in support, of thc conventional sales force. These will be a marketing section working on longterm assignments and a sales engineering section which will maintain direct contact between manufacturers and operating engineers.
Mr. Marcus T. Smith, general manager of Leyland National, will be responsible for all bus policy and will report to Mr. Ronald Ellis, managing director of the truck and bus division, the marketing director of which is now AEC's Mr. Brian Shepherd.
Marketing strategy will be the responsibility of Mr. E. R. Brown (bus marketing manager), who has recently returned to Leyland from Park Royal Vehicles, and Mr. J. R. M. Kinnear, previously with Bristol Commercial Vehicles, who has been appointed bus sales engineer.
The consolidated sales force will be controlled centrally by Mr. J. S. Lees, bus sales manager. The deputy bus sales manager will be Mr. R. S. Crouch, previously with Daimler Transport Vehicles, who will continue to have special responsibilities within Daimler.
The British Isles have been divided into five bus sales regions, each of which will operate from a regional office. The following territories have been established and regional bus sales managers appointed in respect of each: Scotland and Ireland, Mr. J. R. M. Williams (regional office, Glasgow); East, Mr. P. Smith (Leeds); West, Mr. C. D. Watters (Manchester); South East, Mr. W. Foster (London); South West, Mr. S. W. Shears (Bristol).
There will still be Leyland, Daimler, AEC and Bristol chassis, together with Eastern Coach Works, Park Royal and Roe bodies to sell—not to mention the new Leyland National. In future, however, BLMC bus salesmen will be selling the product considered most suitable for the type of work required, writes Derek Moses. They will not be selling in competition.
Where two or more chassis can do the same job satisfactorily the model offered will be the one for which there is a suitable gap in the production schedule at the time the customer requires delivery. For example, if an operator requiring a batch of, say, 10 rear-engined double-deckers delivered in June next year is already operating Daimler Fleetlines and wants to buy more, but the Daimler production line is full, while availability of, say, the Bristol VRT exists, he might be "persuaded" to buy Bristols or
Atlanteans. If the operator insists on Fleetlines, he will probably still get them—but he will have to wait longer. If an operator makes such a switch, however, he will, following delivery, be visited by the new bus sales engineer, to help sort out any problems.
Sounding board The sales engineering branch has, in fact, been established as a sounding board beneath the sales level---a new development-so that operators will be visited regularly and advised on whether they are operating the most suitable models, or simply have day-to-day problems with any particular vehicles ironed out.
Indeed, this is perhaps the most important development of all. It is from the experience gained in the field about the performance of different models or marques that planning for the future will be based, bearing in mind that BLMCs overall philosophy is that the "market dictates the practice".
The long-term planning, under the bus marketing manager, will reflect the short-term experience with existing models, and will lead eventually to the product rationalization which must be faced sooner or later. In the short-term, BLMC hopes that the new sales organization will lead to a rationalization of production—to the benefit of all the operators concerned. But with order books full for the next two years or so, there will be no early dramatic change.
Will export orders received unexpectedly and requiring early delivery delay delivery of chassis on order now by UK operators; and are any existing models or marques likely to be dropped soon? I understand the answer to the first question is "no"—BLMC plans its production to allow flexibility to absorb the important export orders without undue delay to delivery of home market orders.
The answer to the second question is, again, "no"—British Leyland has reaffirmed that, so long as there is sufficient demand for a particular model to justify its continued economic production, it will remain available. But this must, in the light of the above remarks, be regarded as a medium-term policy only.
Tags
People
:
Ronald Ellis
,
J. S. Lees
,
P. Smith (Leeds)
,
R. S. Crouch
,
Marcus T. Smith
,
W. Foster
,
Brian Shepherd
,
S. W. Shears
,
C. D. Watters
,
Derek Moses
,
E. R. Brown