/Directorship for J. Tweedie
13th February 1970
Page 29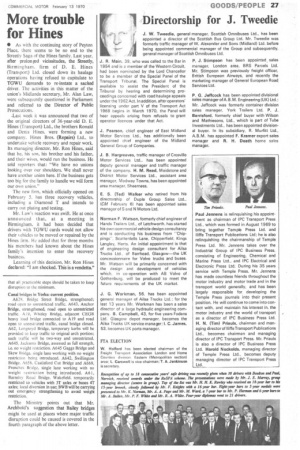 Page 29, 13th February 1970 —
/Directorship for J. Tweedie
Close
J. W. Tweedie, general manager, Scottish Omnibuses Ltd., has been appointed a director of the Scottish Bus Group Ltd. Mr. Tweedie was formerly traffic manager of W. Alexander and Sons (Midland) Ltd. before being appointed commercial manager of the Group and subsequently, general manager of Scottish Omnibuses Ltd.
J. R. Main, 39, who was called to the Bar in 1954 and is a member of the Western Circuit, had been nominated by the Lord Chancellor to be a member of the Special Panel of the Transport Tribunal. The Special Panel is available to assist the President of the Tribunal by hearing and determining proceedings concerned with road haulage appeals under the 1962 Act. In addition, after operators' licensing under part V of the Transport Act 1968 begins in March 1970, the Panel will hear appeals arising from refusals to grant operator licences under that Act.
J. Pearson, chief engineer of East Midland Motor Services Ltd.. has additionally been appointed chief engineer of the Midland General Group of Companies.
J. B. Hargreaves, traffic manager of Crosville Motor Services Ltd., has been appointed deputy general manager and traffic manager of the company. H. M. Read, Maidstone and District Motor Services Ltd., assistant area manager, Medway Towns, has been appointed area manager, Sheerness, E. S. (Ted) Walker who retired from his directorship of Duple Group Sales Ltd., (CM February 6) has been appointed sales manager of Send N Motors Ltd.
Norman F. Watson, formerly chief engineer of Hands Trailers Ltd., of Letchworth, has started his own commercial vehicle design consultancy and is conducting his business from "Chip
Scatterdells Lane, Chipperfield, Kings Langley, Herts. An initial appointment is that of engineering design consultant for Ailsa Trucks Ltd.. of Barrhead, Glasgow—the UK concessionnaire for Volvo trucks and buses. Mr. Watson will be primarily concerned with the design and development of vehicles which, in co-operation with AB Volvo of Gothenburg, will be produced to meet the future requirements of the UK market.
J. G. Workman, 56, has been appointed general manager of Ailsa Trucks Ltd.: for the last 13 years Mr. Workman has been a sales director of a large hydraulic engineering company. B. Campbell, 43, for five years Fodens Ltd. Glasgow depot manager, becomes the Ailsa Trucks UK service manager: 1. C. James, 53, becomes UK ports manager.
FTA ELECTION
W. Holford has been elected chairman of the Freight Transport Association London and Home Counties division, Eastern (Metropolitan section) area: L. Carswell is vice-chairman; T. A. Jenkinson is secretary. P. J. Stimpson has been appointed, sales manager, London area, BRS Parcels Ltd. Mr, Stimpson was previously freight officer, British European Airways, and recently the marketing manager of General European Road Services Ltd.
P. G. Jeffcock has been appointed divisional sales manager of A. B. M. Engineering (LIM Ltd.; Mr. Jeffcock was formerly container division sales manager, York Trailers Ltd. P. J. Berrisford, formerly chief buyer with Wilson and Mathiesons, Ltd., which is part of Tube Investments Ltd., has been appointed divisional buyer. In its subsidiary, R. Murfitt Ltd., A.B.M. has appointed F. Kramer export sales manager and R. H. Death home sales manager.
Paul Jennens is relinquishing his appointment as chairman of IPC Transport Press Ltd., which was formed in August 1969 to bring together Temple Press Ltd. and Iliffe Transport Publications Ltd; he is also relinquishing the chairmanship of Temple Press Ltd. Mr. Jennens takes over the Industrial Group of IPC Business Press, consisting of Engineering, Chemical and Marine Press Ltd., and IPC Electrical and Electronic Press Ltd. During his 36 years service with Temple Press, Mr. Jennens has made countless friends throughout the motor industry and motor trade and in the transport world generally, and has been largely responsible for developing the Temple Press journals into their present position. He will continue to come into contact with, and maintain his interest in, the motor industry and the world of transport as a director of IPC Business Press Ltd. H. N. (Tim) Priaulx, chairman and managing director of Wife Transport Publications Ltd., becomes chairman and managing director of IPC Transport Press. Mr. Priaulx is also a director of IPC Business Press Ltd. Harold Nockolds, managing director of Temple Press Ltd., becomes deputy managing director of IPC Transport Press Ltd.
Tags
People
:
Norman F. Watson
,
J. G. Workman
,
J. B. Hargreaves
,
Harold Nockolds
,
G. Jeffcock
,
Paul Jennens
,
H. N. (Tim) Priaulx
,
B. Campbell
,
J. Tweedie J. W. Tweedie
,
Sheerness
,
J. R. Main
,
Medway Towns
,
C. James
,
P. G. Jeffcock
,
E. S. (Ted) Walker
,
G. Workman
,
T. A. Jenkinson
,
P. J. Stimpson