Publications in the IPC Transport Group
13th February 1970
Page 26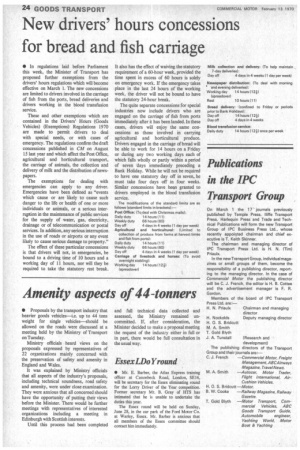 Page 26, 13th February 1970 —
Publications in the IPC Transport Group
Close
On March 1 the 17 journals previously published by Temple Press, Iliffe Transport Press, Harlequin Press and Trade and Technical Publications will form the new Transport Group of IPC Business Press Ltd., whose recently appointed chairman and chief executive is T. Keith Skinner.
The chairman and managing director of IPC Transport Press Ltd. is H. N. (Tim) Priaulx.
In the new Tra nsport Group, individual magazines or small groups of them, become the responsibility of a publishing director, reporting to the managing director. In the case of Commercial Motor the publishing director will be C. J. French, the editor is H. B. Cottee and the advertisement manager is F. R. Gordon.
Members of the board of IPC Transport Press Ltd. are:— H. N. Priaulx Chairman and managing
di rector
H. Nockolds Deputy managing director H. 0. S. Bridcutt
M. A. Smith T. Gold Blyth
J. A. Tunstall (Research and
development)
The publishing directors of the Transport Group and their journals are:— C. J. French —Commercial Motor, Freight
Management, A 8C Airways Magazine, Travel News.
M. A. Smith A u tocar, Motor Trader, Flight International, AirCushion Vehicles.
H. 0. S. Bridcutt —Motor.
B. W. Cooke —Railway Magazine, Railway Gazette.
T. Gold Blyth —Motor Transport, Commercial Vehicles, ABC Goods Transport Guide, Automobile engineer, Yachting World, Motor Boat & Yachting