New drivers' hours concessions for bread and fish carriage
13th February 1970
Page 26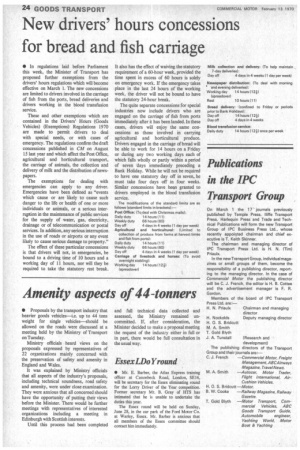 Page 26, 13th February 1970 —
New drivers' hours concessions for bread and fish carriage
Close
• In regulations laid before Parliament this week, the Minister of Transport has proposed further exemptions from the drivers' hours regulations which will become effective on March 1. The new concessions are limited to drivers involved in the carriage of fish from the ports, bread deliveries and drivers working in the blood transfusion service.
These and other exemptions which are contained in the Drivers' Hours (Goods Vehicles) (Exemptions) Regulations 1970 are made to permit drivers to deal with special needs, or with cases of emergency. The regulations confirm the draft concessions published in CM on August 15 last year and which affect the Post Office, agricultural and horticultural transport, the carriage of animals, the collection and delivery of milk and the distribution of newspapers.
The exemptions for dealing with emergencies can apply to any driver. Emergencies have been defined as "events which cause or are likely to cause such danger to the life or health of one or more individuals or animals, or a serious interrAption in the maintenance of public services for the supply of water, gas, electricity, drainage or of telecommunication or postal services. In addition, any serious interruption in the use of roads or airports or any event likely to cause serious damage to property."
The effect of these particular concessions is that drivers will not, in emergencies, be bound to a driving time of 10 hours and a working day of 11 hours, nor will they be required to take the statutory rest break. It also has the effect of waiving the statutory requirement of a 60-hour week, provided the time spent in excess of 60 hours is solely on emergency work. If the emergency takes place in the last 24 hours of the working week, the driver will not be bound to have the statutory 24-hour break.
The quite separate concessions for special industries now include drivers who are engaged on the carriage of fish from ports immediately after it has been landed. In these cases, drivers will enjoy the same concessions as those involved in carrying agricultural and horticultural produce. Drivers engaged in the carriage of bread will be able to work for 14 hours on a Friday or during any two working days each of which falls wholly or partly within a period of seven days immediately preceding a Bank Holiday. While he will not be required to have one statutory day off' in seven, he must take four days off in four weeks. Similar concessions have been granted to drivers employed in the blood transfusion service.
The modifications of the standard limits are as follows (standard limits in brackets):—
Post Office: (To deal with Christmas mails): Daily duty 14 hours (11) Weekly duty 66 hoursI60) Day off 4 days in 4 weeks 11 day per week) Agricultural and horticultural: (Limited to collection of produce from farms at harvest times and fish from ports): Daily duty 14 hours (11) Weekly duty 66 hours (60) Day off 4 days in 4 weeks 11 day per week) Carriage of livestock and horses: (To avoid overnight stabling): Working day 14 hours I121) Ispreadover)