H.g.v. medical test will be tougher for newcomers
13th February 1970
Page 22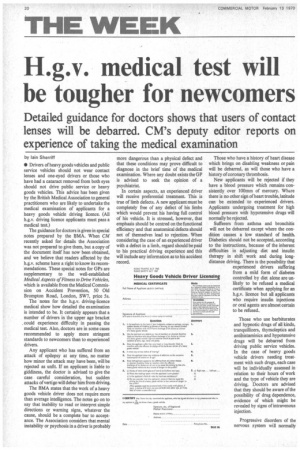 Page 23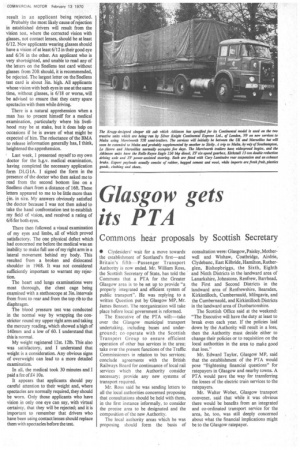 Page 22, 13th February 1970 —
H.g.v. medical test will be tougher for newcomers
Close
Detailed guidance for doctors shows that users of contact lenses will be debarred. CM's deputy editor reports on experience of taking the medical examination
by lain Sherriff • Drivers of heavy goods vehicles and public service vehicles should not wear contact lenses and one-eyed drivers or those who have had a cataract removed from both eyes should not drive public service or heavy goods vehicles. This advice has been given by the British Medical Association to general practitioners who are likely to undertake the medical examination of applicants for a heavy goods vehicle driving licence. (All h.g.v. driving licence applicants must pass a medical test.) The guidance for doctors is given in special notes prepared by the BMA. When CM recently asked for details the Association was not prepared to give them, but a copy of the document itself has now been obtained, and we believe that readers affected by the h.g.v. scheme have a right to know its recommendations. These special notes for GPs are supplementary to the well-established Medical Aspects of Fitness to Drive Vehicles, which is available from the Medical Commission on Accident Prevention, 50 Old Brompton Road, London, SW7, price 5s.
The notes for the h.g.v. driving-licence medical show how detailed the examination is intended to be. It certainly appears that a number of drivers in the upper age bracket ... could experience difficulty in passing the medical test. Also, doctors are in some cases recommended to apply more stringent standards to newcomers than to experienced drivers.
Any applicant who has suffered from an attack of epilepsy at any time, no matter how minor the attack may have been, will be rejected as unfit. If an applicant is liable to • giddiness, the doctor is advised to give the case careful consideration, but sudden attacks of vertigo will debar him from driving.
The BMA states that the work of a heavy goods vehicle driver does not require more than average intelligence. The notes go on to say that inability to read or interpret simple directions or warning signs, whatever the cause, should be a complete bar to acceptance. The Association considers that mental instability or psychosis in a driver is probably more dangerous than a physical defect and that these conditions may prove difficult to diagnose in the brief tune of the medical examination. Where any doubt exists the GP is advised to seek the opinion of a psychiatrist.
In certain aspects, an experienced driver will receive preferential treatment. This is true of limb defects. A new applicant must be completely free of any defect of his limbs which would prevent his having full control of his vehicle. It is stressed, however, that emphasis should be centred on the functional efficiency and that anatomical defects should not of themselves lead to rejection. When considering the case of an experienced driver with a defect in a limb, regard should be paid to his practical driving experience and this will include any information as to his accident record. Those who have a history of heart disease which brings on disabling weakness or pain will be debarred, as will those who have a history of coronary thrombosis.
New applicants will be rejected if they have a blood pressure which remains, consistently over 100mm of mercury. Where there is no other sign of heart trouble, latitude can be extended to experienced drivers. Applicants undergoing treatment for high blood pressure with hypotensive drugs will normally be rejected.
Sufferers from asthma and bronchitis will not be debarred except where the condition causes a low standard of health. Diabetics should not be accepted, according to the instructions, because of the inherent difficulties in adjusting diet and insulin therapy in shift work and during longdistance driving. There is the possibility that experienced drivers suffering from a mild form of diabetes controlled by diet alone are unlikely to be refused a medical certificate when applying for an h.g.v. licence but all applicants who require insulin injections or oral agents are almost certain to be refused..
eantamel
pwr:. Those who use barbiturates and hypnotic drugs of all kinds, tranquillizers, thymolepti6s and antihistaminics and hypotensive drugs will be debarred from driving public service vehicles. In the case of heavy goods vehicle drivers needing treatment with such drugs, each case will be individually assessed in relation to their hours of work and the type of vehicle they are driving. Doctors are advised that they should be aware of the possibility of drug dependence, evidence of which might be revealed by signs of intravenous injection.
Progressive disorders of the nervous system will normally result in an applicant being rejected.
Probably the most likely cause of rejection in established drivers will result from the vision test, where the corrected vision with glasses, not contact lenses, should be at least 6/12. New applicants wearing glasses should have a vision of at least 6/12 in their good eye and 6/36 in the other. An applicant who is very shortsighted, and unable to read any of the letters on the Snellens test card without glasses from 20ft should, it is recommended, be rejected. The largest letter on the Snellens test card is about 3M. high. All applicants whose vision with both eyes in use at the same time, without glasses, is 6/18 or worse, will be advised to ensure that they carry spare spectacles with them while driving.
There is a natural apprehension when a man has to present himself for a medical examination, particularly where his livelihood may be at stake, but it does help on occasions if he is aware of what might be expected of him. The reluctance of the BMA to release information generally has, I think, heightened the apprehension.
. Last week, I presented myself to my own doctor for the h.g.v. medical examination, having completed the necessary application form DLG1A. I signed the form in the presence of the doctor who then asked me to read from the second bottom line on a Snellens chart from a distance of 16ft These letters appeared to me to be little more than +in. in size. My answers obviously satisfied the doctor because I was not then asked to take the hand confrontation test to establish my field of vision, and received a rating of 6/6 for both eyes.
There then followed a visual examination of my eyes and limbs, all of which proved satisfactory. The one physical defect which had concerned me before the medical was an inability to make full use of my right arm in a lateral movement behind my body. This resulted from a broken and dislocated shoulder in 1968. It was not considered sufficiently important to warrant my rejection.
The heart and lungs examinations were most thorough, the chest cage being examined with a stethoscope at 3in. intervals from front to rear and from the top rib to the diaphragm.
The blood pressure test was conducted in the normal way by wrapping the constrictor round my upper right arm and taking the mercury reading, which showed a high of 140mm and a low of 60. I understand that this is normal.
My weight registered 12st. 121b. This also was satisfactory, and I understand that weight is a consideration. Any obvious signs of overweight can lead to a more detailed examination.
In all, the medical took 30 minutes and I paid a fee of £4 10s.
It appears that applicants should pay careful attention to their weight and, where spectacles are normally required, they should be worn. Only those applicants who have vision in only one eye can say, with virtual certainty, that they will be rejected; and it is important to remember that drivers who have been using contact lenses should replace them with spectacles before the test.