THE COMMERCIAL MOTOR IN BOLIVIA.
13th February 1919
Page 9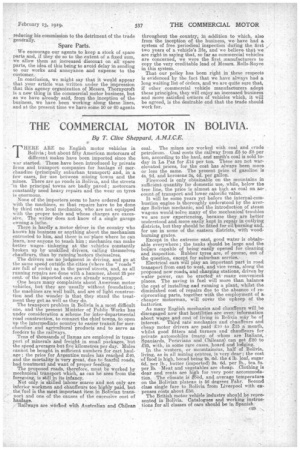 Page 9, 13th February 1919 —
THE COMMERCIAL MOTOR IN BOLIVIA.
Close
By T. Clive Sheppard, A.M.I.C.E.
a
THERE ARE no English motor vehicles in Bolivia; but about fifty American motorcars of different makes have been imported since the ear started. These have been introduced by private firms and transport companies for haulage of merchandize (principally suburban transport) and, in a few cases, for use between mining towns and the mines. There are no roads in Bolivia, and the streets In the principal towns are badly paved ; motorcars constantly need heavy repairs and the wear on tyres is enormous.
None of the importers seem to have ordered spares with the maohines, so that repairs have to be done by third rate local mechanics, who are not equipped with the proper tools and whose charges are excessive. The writer does not know of a single garage owning a lathe.
These is hardly a motor driver in the country who knows his business or anything about the mechanism entrusted to him, and there is no place where he can learn, nor anyone to teach him ; mechanics can make better wages tinkering at the vehicles constantly broken up by unskilled drivers, calling themselves chauffeurs, than by running 'motors themselves. The drivers use no judgment in driving, and go at the same speed outside the cities (where the " roads " are full of rocks) as in the paved streets, and, as all running repairs are done with a hammer, about 25 per cent. of the imported cars are already scrapped. One hears many complaints about American motor vehicles, but they are usually without foundation ; the machines are well built, and are of light construction and the wonder is that they stand the treat ment they get as well as they do. , The transport problem iii. Bolivia is a most difficult one, and the present Minister of Public Works has under consideration a scheme for inter-departmental road construction, to connect the chief towns, to open up the intermediate country to easier transit for merchandise and agricultural products and to serve as feeders to the railways.
Tens of thousands of llamas are employed intransport of minerals and freight in small packages, but the speed averages but five kilometres per day. Mules cannot be bought in sufficient numbers for cart haulage ; the price for Argentine mules has reached £40, and the mortality is very great, due to fearful roads,
bad treatment and want of proper feeding. The proposed roads, therefore, must be worked by mechanical transport which, as can be seen from the foregoing, is still in its infancy. Not only is skilled labour scarce and not only are inferior workmen and chauffeurs too highly paid., but the, fuel is the most important item in Bolivian transDort and one of the causes of the excessive cost of haulage.
Railways are Worked with Australian and Chilean
coal. The mines are worked with coal and crude petroleum. Coal costs the railway from £5 to £8 per ton, according to the haul, and smith's coal is sold today in La Paz for .214 per ton. These are not warelevated prices, for the cost has always been more or less the same. The present price of gasoline is 4s. 2d. and kerosene 3s, ed. per gallon.
Firewood is only obtainable on the mountains in sufficient quantity for domestic use, while, below the tree line, the price is almost as high as coal on. account-of transport and lower calorific value.
It will be some years yet before the internal-combustion engine is thoroughlyunderstood by the averAge Bolivian mechanic, and the introduction of steam wagons would 'solve many of the mechanical' troubles we are now experiencing, because they are better understood and more easily kept in repair in outlying districts, but they should be fitted for oil burning and, for use in some of the eastern districts, with woodburning grates.
Except in the extreme east, good water is obtainable everywhere ; the tanks should be large and the boilers capable of being easily opened for cleaning and inspection. Rubber tyres are, of course, out of the question, except for suburban service. Electrical cars will play an important part in road transport from east to west, and vice versa, along the proposed new roads, and charging stations, driven by water power, can be erected at many convenient places. The saving in fuel will more than balance the cost of installing aid running a plant, whilst the diminished cost of repairs due to the absence of reciprocating parts, together with the employment of a. cheaper motorman, will cover the upkeep of the batteries.
As many English mechanics and chauffeurs will be disengaged now that hostilities are over, information about wages end cost of living in Bolivia my be of interest. Third rate mechanics and chauffeurs and cheap motor drivers are paid £10 to -215 a month, whilst good fitters and turners and chauffeurs for private automobiles (many of whom are Italians, Spaniards, Peruvians and ,Chileans) can get 2() to £25, with, in some rare cases, board and lodging. In the svestenaz or mountainous, half of Bolivia, living, as in all Mining centres' is very dear ; the cost of food. is high, bread being 2s. ed. the 4 lb, loaf, sugar eel.. per lb., butter (imported) 3s. eel. per lb., tea 8s. per lb. Meat and vegetables are cheap. Clothing is dear and rents are high for very poor accommodation. The climate is rood, and average temperature on the Bolivian plateau is 56 degrees Fahr. Second class single fare to Bolivia -from Liverpool with expenses costs about £50. The British motor vehicle industry should be represented in Bolivia. Catalogues and working instructions for all classes of cars should be in Spanish.