ONE HEARS
13th February 1919
Page 3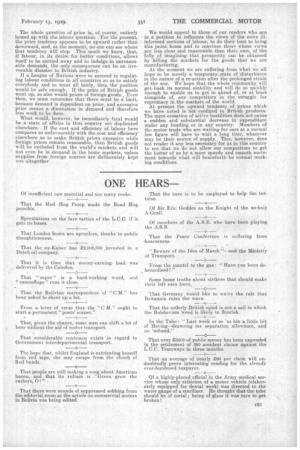 Page 3, 13th February 1919 —
ONE HEARS
Close
Of insufficient raw material and too many cooks.
That the Mud Hog Pump made the Road Hog possible.
Speculations on the fare tactics of the L.C.C. if it gets its bases.
That London buses are apronless, thanks to public thoughtlessness.
That the ex-Kaiser has 22,000,000 .invested in a. Dutch oil company.
That it is time that money-earningload was . delivered by the Caledon.
That "super" is a hard-working word, and "camouflage" runs it close.
That the Bolivian correspondent of " C.M." has been asked to cheer up a bit.
From a lover of verse that the " C.M." ought to start a permanent "poets' corner." • That given the chance, some men can shift a lot of beer without the aid of motor transport, That considerable confusion exists in regard to Government interdepartmental transport.
The hope that, whilst England is extricating herself from red tape, she may escape from the clutch of Red bands.
That people are 'still making a song about American bacon, and . that its refrain is "Green grow the rashers, 0 ! " .
That there were sounds of suppressed sobbing from the editorial room as the article on commercial motors in Bolivia was being edited. That the hare is to be employed to help the tortoise.
Of Sir Eric Geddes as the Knight of the un-holy A-Grail.
Of members of the A.S.E. who have been playing. the A.S.S.
That the Peace Conference is suffering from -hoarseness.
"Beware of the Ides of March "—and the Ministry of Transport.
From the mantel te the gas : " Have you been de_ benzolised " Some home truths about strikers that should make their left ears burn, That Germany would like to waive the rule that Britannia rules the wave.
That the orderly British mind is not a soil in which the Bolshevism weed is likely to flourish.
In the Tube: "Last week or so ti.s bin a little bit of Heving—drawring me separation allowance, and no 'usband."
That over 23400 of public money has been expended in the settlement of 380 accident claims against the L.C.C. Tramways in three months.
That an average of nearly £90 per claim will undoubtedly prove interesting reading for the already over-burdened taxpayer.
Qf & highly-placed official in the Army medical ser vice whose only criticism of a motor vehicle (elaborately equipped for dental Work) was directed to the water gauge of a sterilizer. He thought that the tube should be of metal ; being of glass it was sure to get broken!