OUT AND HOME.
13th February 1919
Page 19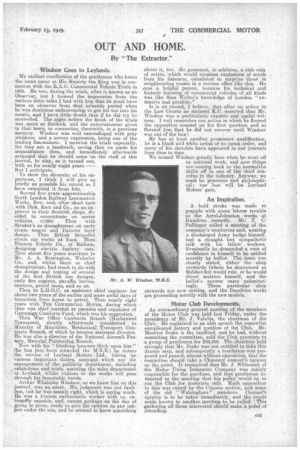 Page 19, 13th February 1919 —
OUT AND HOME.
Close
By "The Extractor."
Windsor Goes to Leylands.
• My earliest recollection of the gentleman who bears the same name as His Majesty the King was in connection with the RA. U. Commercial Vehicle Trials in 1908. He was, during the trials, what is known as an Observer, but I formed the impression from the various little talks I had with him that he must have been an observer from that infantile period when he was doubtless endeavouring to get his toe into his mouth, and I have little doubt that if he did try he succeeded. The night before the finish of thetrials was spent at Baldock, and the entertainment given in that town, in connection therewith, is a precious memory. Windsor was well camouflaged with grey whiskers, and a severe expression, being one of the leading fun-makers. I mention the trials especially, for they are a landmark, seeing that we made his acquaintance then, and immediately afterwards arranged that he should come • on the staff of this journal, to stay, as it turned out, with us for nearly eight years — But 1 anticipate. To show the diversity of his experience, I think I will give as briefly as possible his record as I have extracted it from him.
Served five years apprenticeship North London Railway Locomotive Works, Bow. and, after short turn
with Dick, Kerr and Co., as an improver in their Scottish. shops, de
cided to concentrate on motor vehicles (1899). Then with Straker's as draughtsman on early steam wagon and Daimler lorry design. Then British • Serpollet steam car works at York. Then Electric Vehicle Co., of Balham, designing electric battery cars. Then about five years assistant to Mr. A. A. Remington, Wolseley Co., and, whilst there as chief draughtsman, had much to do with the design and testing of several of the first British bus designs, early fire engines, pazaffin lorries, tractors, petrol locos, and so on.
Then to L.G.O.C. as assistant chief engineer for about two years of the earlier and more awful days of transition from horse to petrol. Then nearly eight years with Tau COMMERCIAL MOTOR,. during which time was chief marshal at parades and organizer of Campaign Comforts Fund, which was his suggestion;
Then War Office Contracts Branch (Mechanical Transport),, shortly afterwards transferred to Ministry of Munitions, Mechanical Transport Contracts Branch, of which he became assistant director. He was also a director of the National Aircraft Factory, Material Purchasing Branch. Now with his "blushing honours thick upon him" (he has lust been awarded the M.B.E.) be 'enters the service of Leyland Motors Ltd., taking up various important duties, amongst which are the management of the publicity department, including exhibitions and trials, assisting the sales department at Leyland, whilst visitors to the works will pass through his hospitable hands.
Arthur Whalesby 'Windsor,. as we knew him on this jotirnal, was an asset. His Judgment was not faultless, but he was mainly, right,. which is saying much. He was a tireless enthusiastic worker with us, extremMy capable, and, except perhaps on the day of going to press, ready to give his opinion on any subject under the sun, and he seemed to know something Mr. A. about it, too. He possesses, in addition, a rich vein of satire, which would occasion • explosions of mirth from his listeners, calculated to surprise those in neighbouring rooms in a serious office like this. He .'was a helpful person, because his technical and historic learning of commercial vehicles of all kinds was like Sam Weller's knowledge of London "extensive and peculiar." It is on record, I believe, that after an action in the Law Courts an eminent K.C. asserted that Mr. Windsor was a particularly capable and useful witness. I well remember one action in which he floored the opposition counsel on his first question and so flurried him that he . did not recover until Windsor was out of the box!
He has at least another prominent qualification, he is a black and white artist'of no mean order, and many of his sketches have appeared in our journals from time to time.
We missed Windsor greatly here when be went off on national work, and now things are coming back to the normalihe drifts off to one of the chief ebnceins in the industry. Anyway, we must be generous and philosophical; our loss will be Leyland Motors' gain.
An Inspiration.
A bold stroke was made to grapple with acute labour trouble at the Arrol-Johnston works •at Dumfries recently. Mr. T. C. Pullinger called a, meeting of the company's employees and, wearing a discharged Army badge himself; had a straight but sympathetic talk with his fellow workers. Eventually he demanded a vote of confidence in himself to be settled secretly by ballot. The issue was clearly stated, either the shop stewards (whom he denounced as Bolsheviks) would rule, or he would direct matters himself, and the ballot's answer came unhesitatingly. These particular shop stewards are now resting, and the Dumfries works are proceeding merrily with the new models. W. Windsor, M.B.E.
Motor Club Developments.
An extraordinary general meeting of the members of the Motor Club was held last Friday, under the presidency of Mr. 3. Valetta, the chairman of the Club. He explained in an able speech the somewhat complicated history and position of the Club. Mr. Maurice Jenks is the landlord, and he had, without consulting the committee, sold the Club premises to a group of gentlemen for 250,000. The chairman held strongly that Mr. Jenks was not entitled to take this drastic, step, and subsequently a, resolution was proposed and passed,-almost without opposition, that tho committee should take a. Chancery counsel's opinion on the point. It transpired that Mr. J. Whitcomb of the Motor Union Insurance Company was mainly responsible for the purchase, and that gentleman intimated to the meeting that his policywould .be to run the Club for motorists only. Much opposition to this was raised by the Cinema section, and some of the old •" Walsuighain " members. Counsel's opinion is to be taken immediately, and the result made known to another xeeeting to be called. This gathering all those interested should make a point of attending.