LEAVES FROM THE INSPECTOR'S NOTEBOOK.
13th February 1919
Page 11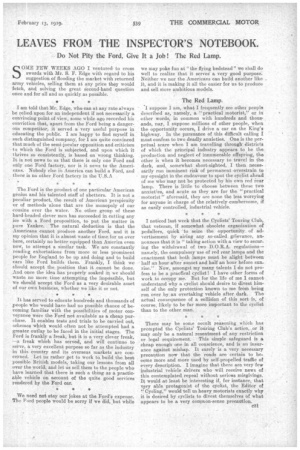 Page 11, 13th February 1919 —
LEAVES FROM THE INSPECTOR'S NOTEBOOK.
Close
Do Not Pity the Ford, Give It a Job The Red Lamp.
SWO FEW, WEEKS AGO I ventured to cross swords with Mr. S. F. Edge with regard to his suggestion of flooding the market with returned army vehicles, selling them at any price they would fetch, and solving the. great Second-hand question once and for all and as quickly as possible.
• I am told that Mr. Edge, who can at any rate always be relied. upon for an independent if not necessarily a convincing point of view, some while age recorded his conviction that, apart from the Ford being a dangerous competitor, it served a very useful purpose in educating the public. I am happy to find myself in such distinguished company, for I am quite convinced that much of the semi-jocular opposition and criticism to which the Ford is subjected, and upon which it thrives so consistently, is based on wrong thinking. It is not news to us that there is only One Ford and only one Ford factory, nor is it news to the Americans. Nobody else in America can build a Ford, and there is no other Ford factory in the T.I.S.A The Ford is the product of one particular American genius and his talented staff of abettors. It is not a peculiar product, the result of American perspicuity or of methods alone that are the monopoly of our cousins over the water. No other group of these hard-headed clever men has succeeded in cutting any ice with a Ford proposition, to put the matter in pure Yankee. The natural deduction is that the Americans cannot produce another Ford, and it is my opinion that it is almost waste of time for us over here, certainly no better equipped than America even now, to attempt a similar task. We are constantly reading exhortations from more or less prominent people for England to be up and doing and to build cars like Ford builds them. Frankly, I think we should accept the position that it cannot be done. And once the idea has properly soaked in we should waste no more time attempting the impcissible, but we should accept the Ford as a very desirable asset of our own business, whether we like it or not.
It has served to educate hundreds and thousands of ,people who would have had no possible chance of becoming familiar with the possibilities of motor conveyance were the Ford not available as a cheap purchase. It enables tests and trials to be carried out, schemes which would often not be attempted had a greater outlay to be faced in the initial stages. The Ford is frankly a freak, but it is a very clever freak, —a freak which has served, and will continue to serve, a very excellent purpose so far as the industry in this country and its overseas markets are concerned. Let us rather get to work to build the best possible British models, taking our lessons from all over the world, and let us sell them to the people who 'have learned that there is such a thing as a practicable vehicle on account of the quite good serVices rendered by the Ford car.
. .
We need not stay our jokes at the Ford's expense. The Ford people would be sorry if we did, butwhile we May poke fun at "the flying bedstead" we shall do well to realize that it serves; a very good purpose: Neither we nor the Americans can build another like it, and it is making it all the easier for us to produce and sell More ambitious models.
The Red Lamp.
I suppose I am, what I frequently see other people described as, namely, a "practical .motorist," or in other words, in common with hundreds and thousands, nay, I suppose millions of other people, when the opportunity occurs, I drive a car on the King's highway. In the pursuance of this difficult calling I must confess to two deadly anxieties. One is the perpetual scare when I am travelling through districts of Which the principal industry appears to be the production and neglect of innumerable offspring, the other is when it becomes necessary to travel in the dark, and, somewhat short-sighted, I then necessarily run imminent risk of permanent overstrain to my eyesight in the endeavour to spot the cyclist ahead of me who may not be protected by his own red fear lamp. There is little to -choose between these two anxieties, and acute as they are for the "practical motorist" aforesaid, they are none the less worrying for anyone in charge of the relatively cumbersome, if as easily controlled, industrial vehicle.
I noticed last week that the Cyclists' Touring Club, that veteran, if somewhat obsolete organization of pedallers, quick to seize the opportunity_ of advertisement by airing any so-called grievance, announces that it is "taking action with a view to securing the withdrawal of two D.O.R.A. regulations-namely, the compulsory use of red rear lamps and the enactment that both lamps must be alight between half an hour after sunset and half an hour before sunrise." Now, amongst my many talents I do not profess to be a practical cyclist I have other farms of work to occupy me. But for the life of me I cannot understand why a cyclist should desire to divest himself of the only protection known to me from being run over by an overtaking vehicle after dark. The actual consequence of a collision of this .sort is, of course, likely to be far more important to the cyclist than to the other Man. .
There may be some occult reasoning which has prompted the Cyclists' Touring Club's. action, or it may only be a natural resentment of any restriction or legal requirement. This simple safeguard is a cheap enough one in all conscience, and is an insurance against mishap. It surely is a very necessary precaution now that the roads are certain to become more and more used, by self-propelled traffic of every description. I imagine that there are Very few industrial vehicle drivers who will receive news of this contemplated repeal, without serious misgivings. It svoulcl at least be interesting if, for instance, that very able protagonist of the cyclist, the Editor of "Cycling," would tell us heavy motorists exactly why it is desired by cyclists to divest themselves of what appears to be a very common-sense precaution.