0•303: Complex coach range from Mercedes
13th December 1974
Page 18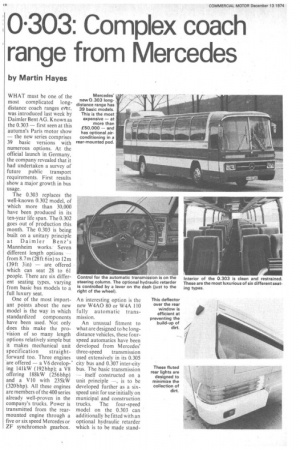 Page 19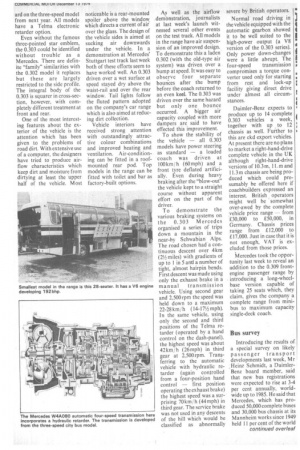 Page 20
Page 18, 13th December 1974 —
0•303: Complex coach range from Mercedes
Close
by Martin Hayes
WHAT must be one of the most complicated longdistance coach ranges evtr, was introduced last week by Daimler Bent AG. Known as the 0.303 — first seen at this autumn's Paris motor show — the new series comprises 39 basic versions with numerous options. At the official launch in Germany, the company revealed that it had undertaken a survey of future public transport requirements. First results show a major growth in bus usage.
The 0.303 replaces the well-known 0.302 model, of which more than 30,000 have been produced in its ten-year life span. The 0.302 goes out of production this month. The 0.303 is being built on a unitary principle at Daimler Benz's Mannheim works. Seven different length options from 8.7m (28ft 6in) to 12m (39 ft 3m) — are offered which can seat 28 to 61 people. There are six different seating types, varying from basic bus models to a full luxury seat.
One of the most important points about the new model is the way in which standardized components have been used. Not only does this make the provision of so many length options relatively simple but it makes mechanical unit specification straightforward too. Three engines are offered — a V6 develop-ing 141kW (192 bhp); a V8 offering 188kW (256bhp) and a V 10 with 235kW (320 bhp). All these engines are members of the 400 series already well-proven in the company's trucks. Power is transmitted from the rearmounted engine through a five or six speed Mercedes or ZF synchromesh gearbox. An interesting option is the new W4A0 80 or W4A 110 fully automatic transmission.
An unusual fitment to what are designed to be longdistance vehicles, these fourspeed automatics have been developed from Mercedes' three-speed transmission used extensively in its 0.305 city bus and 0.307 inter-city bus. The basic transmission itself constructed on a unit principle , is to be developed further as a sixspeed unit for use initially on municipal and construction trucks. The four-speed model on the 0.303 can additionally be fitted with an optional hydraulic retarder which is to be made stand ard on the three-speed model from next year. All models have a Telma electronic retarder option.
Even without the famous three-pointed star emblem, the 0.303 could be identified without trouble' as a Mercedes. There are definite "family" similarities with the 0.302 model it replaces but these are largely restricted to the side profile. The integral body of the 0.303 is squarer in cross-section, however, with completely different treatment at front and rear.
One of the most interesting features about the exterior of the vehicle is the attention which has been given to the problems of road dirt. With extensive use of a computer, the designers have tried to produce airflow characteristics which keep dirt and moisture from dirtying at least the upper half of the vehicle. Most noticeable is a rear-mounted spoiler above the window which directs a current of air over the glass. The design of the vehicle sides is aimed at sucking air downwards under the vehicle. In a demonstration at Mercedes' Stuttgart test track last week both of these efforts seem to have worked well. An 0.303 driven over a wet surface at speed stayed dry above the waist-rail and over the rear window. Tail lights follow the fluted pattern adopted on the company's car range which is also aimed at reducing dirt collection.
Vehicle interiors have received strong attention with outstandingly attractive colour combinations and improved heating and ventilation. Air-conditioning can be fitted in a roofmounted rear pod. Top models in the range can be fitted with toilet and bar as factory-built options. As well as the airflow demonstration, journalists at last week's launch witnessed several other events on the test track. All models in the range have air suspension of an improved design. To demonstrate this a laden 0.302 (with the old-type air system) was driven over a bump at speed. It was easy to observe four separate bounces after the bump before the coach returned to an even keel. The 0.303 was driven over the same hazard but only one bounce occurred. A bigger air capacity coupled with more dampers are said to have effected this improvement.
To show the stability of the vehicle — all 0.303 models have power steering as standard — a loaded coach was driven at 100 km/h (60mph) and a front tyre deflated artificially. Even during heavy braking after the "blow-out" the vehicle kept to a straight course without apparent effort on the part of the driver.
To demonstrate the various braking systems on the 0.303 Mercedes organised a series of trips down a mountain in the near-by Schwabian Alps. The road chosen had .a continuous descent over 4km (21/2 miles) with gradients of up to I in 5 anti a number of tight almost hairpin bends. First descent was made using only the exhaust brake in a manual transmission vehicle. Using second gear and 2,500 rpm the speed was held down to a maximum 22-28 km/h (14-171/2 mph). In the same vehicle, using only the second and third positions of the Telma retarder (operated by a hand control on the dash-panel), the highest speed was about 42km /h (26mph) in third gear at 2,500rpm. Transferring to the automatic vehicle with hydraulic retarder (again controlled from a four-position hand control — first position operating the exhaust brake) the highest speed was a surprising 70 km/ h (44mph) in third gear. The service brake was not used in any descents of the hill which would be classified as abnormally Normal road driving in the vehicle equipped with the automatic gearbox showed it to be well suited to the high-power output (a V8 version of the 0.303 series). Only power down-changes were a little abrupt. The four-speed transmission compromises a torque converter used only for starting from rest and lock-up facility giving direct drive under almost all circumstances.
Daimler-Benz expects to produce up to 14 complete 0.303 vehicles a week, together with up to 12 chassis as well. Further to this are ckd export vehicles. At present there are no plans to market a right-hand-drive complete vehicle in the UK although right-hand-drive versions of 10.3 m, 11. m and 11.3 m chassis are being produced which could presumably be offered here if coachbuilders expressed an interest. British operators might well be somewhat over-awed by the complete vehicle price range from £30,000 to £50,000, in Germany. Chassis prices range from £12,000 to 17,000. Just in case that it is not enough, VAT is excluded from those prices.
Mercedes took the opportunity last week to reveal an addition to the 0.309 frontengine passenger range by introducing a long-wheelbase version capable of taking 25 seats which, they claim, gives the company a complete range from minibus to maximum capacity single-deck coach.
Bus survey
Introducing the results of a special survey on likely passenger transport developments last week, Mr Heinz Schmidt, a DaimlerBenz board member, said that new bus registrations were expected to rise at 3-4 per cent annually, worldwide up to 1985. He said that Mercedes, which has produced 50,000 complete buses and 30,000 bus chassis at its Mannheim works since 1949 held 11 per cent of the world bus market. The company has conducted a survey of likely local passenger transport requirements in West Germany over the next 10 years. This shows that local passenger transport will grow (in passenger/km) by 70 per cent in that time. Public transport will have a growth rate of 100 per cent and car traffic of 34 per cent. the survey shows. Much of this tendency will be due to the increasing trend of decentralization the movement of most living areas further out from city centres.
The survey evaluated several of the rapid transit systems now being planned. It concluded that many systems requiring special track would he abandoned because of the high level of capital expenditure required. Instead, the "technologically mature" bus would tend to be favoured because of its lower investment requirements and its ultimate flexibility. Mr Schmidt concluded by quoting the example of the California Bay Area Rapid Transit scheme. This has run into major technical difficulties while its required investment — 1,600 m dollars — was exactly twice that which would have been required to provide a bus system of similar capacity.
On a practical level, another Daimler-Benz director -Professor Hans Scherenburg, head of development and research — revealed that bus operators and manufacturers in Germany had got together to form a work study group to examine a new bus transport system. This involved a three-phase programme, the ultimate development of which would involve driverless buses running on special tracks. Vehicles would be basically similar to those now in operation but with the possibility for automatic control and hybrid power systems.